Apple has announced it will invest in a mangrove tree restoration project for a 27,000-acre forest in Colombia, as part of a broader effort by the company to achieve carbon neutrality (via Fast Company).
Apple VP of environment, policy, and social initiatives Lisa Jackson gave details of the investment at the Global Climate Action Summit in San Francisco, but stopped short of disclosing how much cash Apple intends to earmark for the project, which is being undertaken in partnership with the non-profit Conservation International.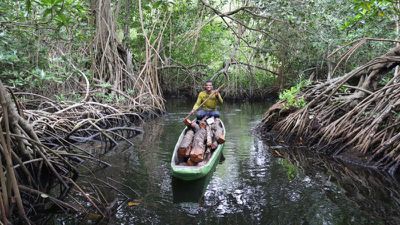 Image via Fast Company
"These forests are critical because they're one of nature's most important tools in the battle against climate change – they can absorb and store up to ten times more carbon than a terrestrial forest," Jackson told the audience.
The project will involve tree-planting in degraded areas of the Colombian forest and tree preservation, which should help capture an estimated one million metric tons of CO2 emissions over its lifetime. Projections over the first two years indicate 17,000 metric tons in reduced emissions.
That's the same amount of emissions generated by the cars that will update Apple Maps over the next decade, making the program carbon neutral for the company, notes Fast Company.
According to M. Sanjayan, CEO of Conservation International, mangrove trees are excellent absorbers of carbon and are able to store carbon dioxide in their leaves and branches, as well as siphon off the gas into surrounding soil and sediment through vast underwater root systems.
Mangrove trees "have the densest carbon storage of any habitat on Earth," said Sanjayan. "If you want to actually change the thermostat of the world in your lifetime, then ending the destruction of mangroves and restoring them is one of the biggest things you can do."
Conservation International has calculated how much "blue carbon" the trees sequester underwater, which will allow the project to quantify the trees' ability to act as "carbon sponges".

"By investing, [Apple] opened the door for others to also think about blue carbon as a viable way to sequester carbon and reduce emissions globally," said Sanjayan.
Back in 2015, Apple partnered with the Conservation Fund to acquire over 36,000 acres of working forest in Maine and California, ensuring the maintenance of the forests and preserving the supply of raw materials for paper. Later that year, Apple committed to protecting one million acres of forest in China.
Underlining its environmental commitments, Apple announced in April that its global facilities, including retail stores, offices, data centers, and more, are powered with 100 percent clean energy.