'Dummy' 6.1-inch LCD iPhone Images Reposted on Social Media as Alleged iPhone Xc 'Prototypes'
Over the weekend, mobile leaker Benjamin Geskin reposted a series of images supposedly showing "prototypes" of Apple's forthcoming 6.1-inch LCD iPhone in three colors. The images were in fact first shared by Slashleaks on September 6, when they were described as "clones" of Apple's upcoming mid-tier LCD iPhone.
Despite that, on Sunday Geskin re-shared an earlier tweet of his linking to the original Slashleaks page, and claimed the dummy/clone images were in fact "the real deal", without offering any evidence to substantiate the new claim.
Whatever the truth is behind these images, they've become a topic of online discussion, so we're covering them here for completion.
Rumors have been running for some time that Apple's more budget-friendly LCD iPhone will launch in several colors, with Apple analyst Ming-Chi Kuo predicting in July that gray, white, blue, red, and orange colors would be available.
Speculation surrounding possible color options was also reignited on Sunday when an alleged Chinese mobile carrier leak referred to the lower-spec LCD iPhone as "iPhone XC". The last time Apple used "C" nomenclature in its smartphones was for its budget-friendly iPhone 5c, which featured a plastic rear case available in blue, green, yellow, white, and pink colors.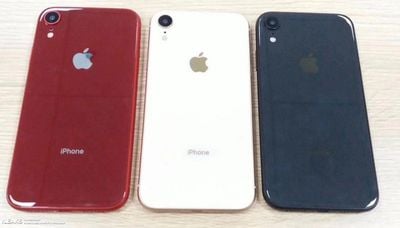 The red color shown in the images appears similar to Apple's special PRODUCT(RED) iPhone editions, which for the last two years have only become available for select models midway through their first year of availability.
One of the images of the alleged "prototypes" also shows the 6.1-inch LCD iPhone with a dual-SIM card slot. Again, previous rumors have suggested that a dual-SIM version of the LCD iPhone will be available in select regions.
Lastly, the cases in the images look to have glass backs surrounded by aluminum edges, in contrast to the more expensive-to-manufacture stainless steel finish used in last year's iPhone X.
It's not long now before we'll know for sure what Apple has planned for its 2018 iPhone lineup. Apple's "Gather Round" media event takes place on Wednesday, September 12, and you can find all the coverage here on MacRumors.