Alleged China Mobile Leak Names 'iPhone XC' and 'iPhone XS Plus' in Apple's 2018 iPhone Lineup
A photo of an alleged slide from an internal Chinese mobile carrier presentation appeared on Weibo today that potentially reveals the naming convention for Apple's imminent iPhone lineup as well as possible pricing details.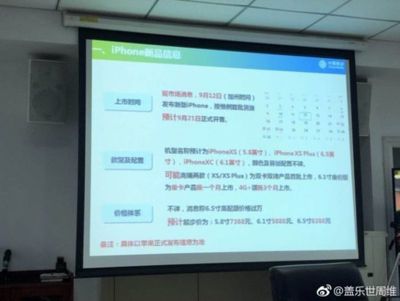 Alleged slide from China Mobile internal company meeting
First spotted by Japanese tech blog
MacOtakara
, the China Mobile slide refers to the larger 6.5-inch OLED iPhone as "iPhone XS Plus", casting doubt on earlier claims that the larger OLED iPhone will take the moniker "
iPhone XS Max
". Meanwhile, the lower-spec 6.1-inch LCD iPhone is referred to as "iPhone XC".
The last time Apple used "C" nomenclature in its smartphones was for 2013's iPhone 5c, which was priced below the flagship iPhone 5 series and featured a plastic rear case available in blue, green, yellow, white, and pink colors.
Respected Apple analyst Ming-Chi Kuo expects the 6.1-inch iPhone to be available in red, blue, orange, gray, and white, while the 5.8 and 6.5-inch iPhone models will be available in just three colors – presumably silver, space gray, and gold.
As for the slide's pricing, which includes 17 percent Chinese sales tax, the "iPhone XS" is 7388 yuan ($1079), the "iPhone XS Plus" is 8388 yuan ($1225), and the lower-spec "iPhone XC" is 5888 yuan ($860). Minus tax, the "iPhone XS", "iPhone XS Plus", and "iPhone XC" prices approximately convert to $900, $1015, and $700, respectively.
Those figures roughly line up with Kuo's expectation that the 6.5-inch OLED device will be priced at $900 to $1,000, while the 5.8-inch OLED second-generation iPhone X will be $800 to $900, and the 6.1-inch LCD iPhone will be $600 to $700.
Lastly, the slide mentions that a dual-sim version of the "iPhone XS" and "iPhone XS Plus" will be available, but at a later date than the standard models.
Similar leaks allegedly sourced from China Mobile have been accurate in the past, but at present it's impossible to verify that this one is legitimate. Suffice to say we'll know for sure on Wednesday, September 12, when Apple's "Gather Round" media event takes place. Aside from new iPhones, redesigned iPad Pro and Apple Watch models are also expected to be announced. Stay tuned to MacRumors for all the coverage.