Apple CEO Tim Cook on Apple Music: 'We Worry About the Humanity Being Drained Out of Music'
In an extensive profile of Spotify founder and CEO Daniel Ek, Fast Company's Robert Safian recently sat down to speak for a few minutes with Apple CEO Tim Cook at Apple's headquarters in Cupertino, California.
The topic was, of course, Spotify and Apple Music, two of the major players in the streaming music market and fierce competitors. Cook said that he looks to music as inspiration and motivation, a philosophy that's shared at Apple and has guided its focus on human-based music curation.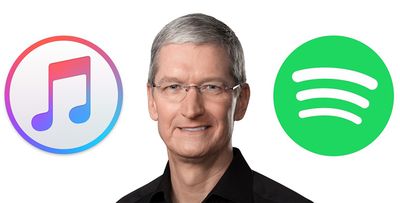 "Music inspires, it motivates. It's also the thing at night that helps quiet me. I think it's better than any medicine," Cook said.
While he declined to mention Spotify by name, Cook told Fast Company that Apple worries about streaming music losing the human touch, alluding to Spotify's more algorithmic approach to highlighting content.
Cook's words embody Apple's longstanding critique of Spotify, which is that its algorithms are eroding music's spiritual role in our lives. Cook doesn't mention Spotify by name but says, "We worry about the humanity being drained out of music, about it becoming a bits-and-bytes kind of world instead of the art and craft."
Despite launching just three years ago, Apple Music has 50 million paid subscribers and free trial members, with the company slowly catching up to Spotify. At last count, Spotify said that it had 83 million paid subscribers around the world.
Apple has always had an edge over Spotify due to its massive 1.3 billion active installed base, and the fact that it's never needed to worry about profitability like Spotify has. "We're not in it for the money," Cook told Fast Company.
Ek, too, didn't mention Apple Music by name, but he said he believes Spotify has something going for it that other companies don't: a singular focus. "Music is everything we do all day, all night, and that clarity is the difference between the average and the really, really good," he said.
Spotify's dedication to music and music alone is what Ek believes will ultimately help the company beat Apple and expand the Spotify service in the future.
Competing with Apple was always Spotify's plan, says Ek, even before Apple Music. Apple dominated digital music downloads via iTunes in 2008 when Spotify launched, with Ek aiming to replace the iPod with on-demand music.
Competition with Apple and working within tight margins, Ek says, has driven Spotify to be more disciplined.
Despite industry complaints and criticism from Apple, Spotify has continued to focus on free music, which is how Spotify draws in new paying subscribers. After going public earlier this year, Spotify overhauled its free listening tier, offering new features that include on-demand playlists and a data saving mode, which were previously limited to paying subscribers.
Ek believes that there's money to be made with Spotify's free tier, with radiolike advertising options. "Billions of people listen to radio, and most of that today isn't monetized very efficiently," Ek said.
Going forward, in addition to working to expand revenue via its free tier, Spotify plans to focus on artists. Ek eventually wants to get 1 million artists to make a living off of Spotify, ultimately imagining something akin to YouTube where artists and listeners can interact.
For anyone interested in the inner workings of Spotify or how Ek operates, Fast Company's full profile of the founder is well worth checking out.