Apple's Rumored MacBook Air Successor Said to Use Intel's Kaby Lake Refresh Processors
Apple is widely expected to launch a new lower-priced notebook later this year, likely with a 13-inch Retina display and a starting price below $1,000. It's unclear if it will be branded as a MacBook, MacBook Air, or otherwise, but it'll be a new lower-cost, lower-spec option below the MacBook Pro.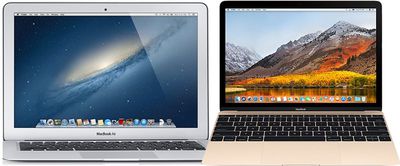 According to a translated report from Taiwanese publication Economic Daily News, the notebook will be powered by Intel's eighth-generation Kaby Lake Refresh processors, released in the second half of 2017.
The translated report suggests that Apple's decision to use the Kaby Lake Refresh processors, manufactured based on a 14nm process, is due to repeated delays with Intel's transition to Cannon Lake chips, based on a 10nm process. The latest word is that Cannon Lake won't be ready until the end of 2019.
The Kaby Lake Refresh lineup includes quad-core Core i5 and Core i7 processors with base clock speeds between 1.6GHz and 1.9GHz, and max Turbo Boost speeds between 3.4GHz and 4.2GHz. The 15W chips feature integrated Intel UHD Graphics 620, with support for up to 32GB of DDR4 or LPDDR3 RAM.
This means Apple's lower-priced notebook would be significantly faster than the latest MacBook Air models, which is unsurprising, given they use Intel's fifth-generation, dual-core Core i5 and Core i7 processors released in 2015. It'd also be much faster than the 12-inch MacBook, which uses ultra-low-power chips.
Kaby Lake Refresh chips are already nearly one year old, and Intel will be releasing faster Whiskey Lake processors suitable for Apple's notebook in the second half of 2018, but they might not be ready in time, as manufacturing needs to begin over the summer for the notebook to launch in the fall.
It appears Apple will have a jam-packed September event, with a trio of new iPhones, Apple Watch Series 4 models, new AirPods, and AirPower, so the Mac and iPad Pro could see some attention at an October event.
It's not entirely clear how Apple will shake up its notebook lineup below the MacBook Pro. The new notebook could be the first MacBook Air with a Retina display, or replace the MacBook Air entirely, or slot into the MacBook family, with price adjustments across the line, but it all remains to be seen.
Apple's plans for the notebook have been detailed by reliable Apple sources Ming-Chi Kuo and Mark Gurman in recent months.
Beyond the mid-range notebook, an October event could see refreshes to the 12-inch MacBook lineup with Intel's upcoming low-power Amber Lake chips, a refreshed Mac mini with Kaby Lake Refresh chips, and new standard iMac models with faster processors and a significant display-related upgrade.