Mac Mini Refresh, New Low-Cost Notebook, Apple Watches With Larger Displays and More Coming This Fall
Apple is working on updates across its entire product line for the second half of 2018, according to a new investor's note shared this morning by reliable Apple analyst Ming-Chi Kuo, with refreshes expected for iPhone, iPad, Mac mini, MacBook Pro, iMac, and Apple Watch.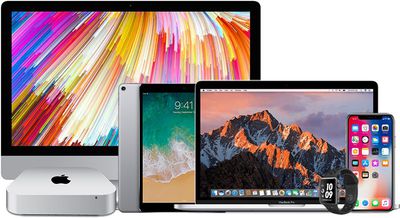 Much of what Kuo has to share has been mentioned before, but he provides a nice overview of what we can expect to see this fall along with some interesting new tidbits on Apple's upcoming product lineup.
iPhone - There are three iPhones in the works, two OLED models in 5.8 and 6.5-inch sizes and one lower-cost LED model that will be available in a 6.1-inch size. All three will feature Face ID and upgraded A12 processors. While the two OLED models will have dual-lens cameras, the lower-cost model will feature a single-lens camera.
iPad Pro - Apple is working on two new 11 and 12.9-inch iPad Pro models that are equipped with a full-screen design similar to the iPhone X and no Home button, with Apple to replace Touch ID with Face ID.
Mac mini - Kuo didn't have a lot of information to share on the Mac mini, but he says a processor upgrade is expected. The Mac mini has not been updated for more than 1,300 days, aka over 3 and a half years. It's not clear if additional upgrades will be included, such as a redesigned chassis, but at least some kind of refresh is on the horizon.
MacBook Pro - Processor upgrades expected.
MacBook - Processor upgrades expected.
New Low-Priced Notebook - Kuo believes Apple is designing a new low-priced notebook. He originally said that this would be in the MacBook Air family, but now has changed his mind. Previous rumors have suggested this machine could be a 12-inch MacBook, so Apple may be planning to expand the MacBook lineup with an additional low-cost option to replace the MacBook Air.
iMac - Kuo says to expect a significant display performance upgrade, but he does not go into detail about what this will entail and we haven't heard additional iMac rumors at this time. He says the iMac, like other Macs, will get a processor refresh.
Apple Watch - Apple is working on two new Apple Watch models for 2018 that will have bigger displays and enhanced heart rate detection features. The two Apple Watch models will measure in at 1.57 inches (39.9mm) and 1.78 inches (45.2mm), roughly 15 percent bigger than in the current models. Rumors have not been clear on whether the Apple Watch itself will be larger or if the bigger display will come from a reduction in bezels.
Kuo wraps up his note with a prediction that the highly-anticipated AirPods and the AirPower will go into mass production in the third quarter of 2018, suggesting a late fall launch. Apple first announced the AirPower in the fall of 2017, but has reportedly run into some problems with production. Recent rumors have said Apple is aiming for a September launch for the AirPower.
Kuo doesn't provide details on when we might see refreshes to Apple's other product lines, but the company could be planning to launch all of the new products at its annual September event, which is typically held during the first or second week of September.
In the past, Apple has also held separate October events when there is a heavy fall product lineup to unveil, so Macs and iPads could also come in that month.