Apple Looking Into Limited Reports of T2-Related Kernel Panics on New MacBook Pro and iMac Pro
As highlighted by Digital Trends and VentureBeat, a small number of users have turned to the Apple Support Communities to report incidents of kernel panicking on the new MacBook Pro, possibly linked to Apple's T2 chip. The issue has also been highlighted by some of our own readers in the MacRumors forums.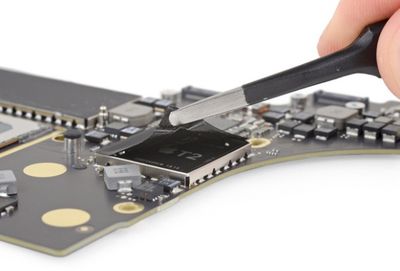 Image Credit: iFixit
Many of the crash logs shared by users mention bridgeOS, which is the device firmware on the logic board that controls many functions, including the T2, fueling speculation that the chip is the root cause of the problem.
Similar reports of kernel panicking began last year with the iMac Pro, which is also equipped with the T2, so this does seem to be a potential issue with the chip, or the bridgeOS firmware that manages it, rather than an entirely new MacBook Pro controversy like the since-fixed excessive throttling.
Apple's custom T2 chip integrates several previously separate components, including the system management controller, image signal processor, audio controller, and SSD controller. It also features a Secure Enclave coprocessor for secure boot, encrypted storage, and authenticating Touch ID.
Apple support representatives appear to have provided a wide variety of solutions, ranging from disabling FileVault to turning off Power Nap, but none of the advice customers received suggests there is a permanent fix.
MacRumors reached out to Apple, which told us that this is not a widespread issue, nor one that it has received any direct reports about. Nevertheless, Apple said it has relevant teams looking into the matter and, unsurprisingly, is always aiming to improve the stability and reliability of its products.
In general, Apple recommends that customers update their MacBook Pros with the macOS High Sierra Supplemental Update released earlier this week, which contains reliability and stability improvements, including a bug fix that addresses excessive thermal throttling with the latest MacBook Pro models.
According to at least one user, the Supplemental Update has not resolved the kernel panicking. Hopefully, whatever is causing the issue can be identified and promptly fixed in a future software update.