Qualcomm Expects Apple to 'Solely' Use Intel Modems for 2018 iPhones
Apple does not have plans to use Qualcomm's LTE chips in its next-generation devices, Qualcomm's CFO said today during Qualcomm's second quarter earnings call.
As relayed by CNBC, Qualcomm CFO George Davis told investors Apple will use a competitor's chips in its 2018 iPhones, likely speaking of Intel.
"We believe Apple intends to solely use our competitors' modems rather than our modems in its next iPhone release. We will continue to provide modems for Apple legacy devices," said Davis.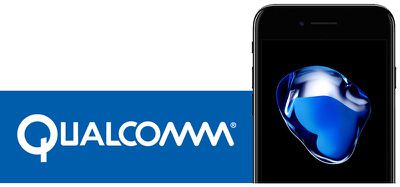 Over the course of the last few months, there have been mixed reports about Apple's LTE chip plans given the legal disagreement between the two companies. Respected Apple analyst Ming-Chi Kuo said in February that Intel would be the supplier of LTE modems for all 2018 iPhones, with Apple using no Qualcomm chips.
Kuo's report was called into question in April when Fast Company said that Intel would supply Apple with 70 percent of the LTE chips needed for the 2018 iPhones while Qualcomm would provide the rest, but it appears that report was inaccurate.
Qualcomm's statement today is also in line with an October report from The Wall Street Journal suggesting Apple would eliminate Qualcomm chips from its 2018 iPhone and iPad lineup, instead using chips from Intel and perhaps MediaTek.
Apple's decision not to use Qualcomm chips in its latest crop of iPhones is understandable given the increasingly bitter legal battle the two companies have been embroiled in for more than a year.
Apple in January 2017 sued Qualcomm for $1 billion, accusing Qualcomm of charging unfair royalties for "technologies they have nothing to do with" and failing to pay quarterly rebates. Apple and its suppliers stopped paying licensing fees at that time.
While Apple insists Qualcomm charges unfair royalties, Qualcomm claims that its technology "is at the heart of every iPhone."
It didn't take long for Qualcomm to file a countersuit claiming that Apple had infringed on several of its patents. Since then, both companies have filed multiple lawsuits against one another, and Qualcomm has also sought import and export bans on some iPhones in the United States and China.
Apple has used Qualcomm chips in its iPhones for years, but until the legal dispute is resolved, the iPhone X, iPhone 8, and iPhone 8 Plus could be the last iPhones with Qualcomm chips.
Apple is rumored to be working on its own Apple-designed modem chips for future iPhones, but until its own technology is ready, Apple devices may be equipped with Intel technology.
Rumors suggest that Apple's 2018 iPhones will use Intel's XMM 7560 modems, which support both GSM and CDMA networks. Apple is said to be planning to introduce improved antenna technology for faster connection speeds and dual-SIM dual standby functionality.
Qualcomm today reported better-than-expected quarterly results with $5.6 billion in revenue and earnings of $1.01 per share. Qualcomm saw "strong demand" from Chinese device makers amid "lower demand" from Apple.