Apple May Offer Two 6.1-Inch iPhone Models in 2018 With Price Tag as Low as $550
Apple's upcoming lower-cost 6.1-inch iPhone could be available in two models, one that includes a single SIM and a second that offers dual-SIM dual standby (DSDS) functionality, aka two physical SIM card slots, according to an investor's note from KGI Securities analyst Ming-Chi Kuo.
Kuo believes that the 6.1-inch dual-SIM iPhone could be priced at $650 to $750, while a single SIM model could potentially be less expensive at $550 to $650. Prospective prices for the two OLED iPhones Apple plans to introduce in 2018 were not mentioned in today's note, but those two devices are expected to be significantly more expensive.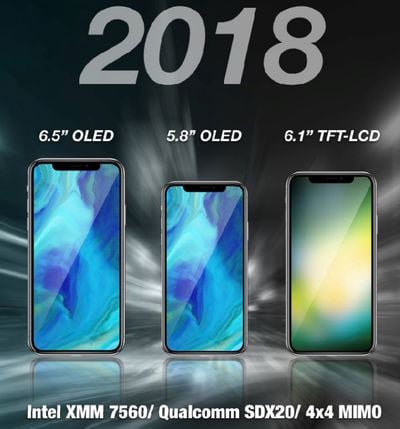 6.1" LCD iPhone may have model that supports DSDS. If the 6.1" LCD iPhone comes with DSDS and single-SIM models, we believe it will result in two benefits: (1) more price segments would be created, significantly boosting shipments via the low-price single-SIM model. For instance, if the DSDS model sells for US$650-750, the single-SIM model may sell for US$550-650; and (2) the DSDS model will help increase market share in China and commercial markets.
Kuo has mentioned dual-SIM dual standby functionality in prior notes, where he said at least one of the three new iPhones expected in 2018 would offer the feature. In this note, Kuo clarifies that both the 6.1-inch and 6.5-inch devices will support DSDS, while the 5.8-inch iPhone will not.
Kuo also previously said that Apple will use Intel's XMM 7560 and Qualcomm's Snapdragon X20 modems for faster LTE speeds, and that the DSDS devices will support LTE+LTE connections to allow two SIM cards to be active simultaneously using one set of chips. A dual-SIM feature would make it easier for people to switch carriers when traveling by allowing and Kuo believes it would be highly popular in China.
Apple is rumored to be planning to introduce three iPhones in 2018, the 6.1-inch LCD model outlined here, a 5.8-inch OLED model positioned as a sort of second-generation iPhone X, and a 6.5-inch OLED model that can be thought of as an "iPhone X Plus."
Kuo believes that mass production on the 6.1-inch LCD iPhone will start three to five weeks later than the two OLED models because of the recent decision to add a DSDS model. Apple's supply chain will see strong growth in 4Q18-2Q19F, says Kuo, with the 6.1-inch iPhone's low price and DSDS feature to "significantly boost shipment momentum."
Kuo predicts the 6.1-inch LCD iPhone and the 6.5-inch OLED iPhone will be Apple's most popular devices next year, with consumers less interested in the 5.8-inch model due to its smaller screen, higher price tag, and lack of DSDS functionality compared to the 6.1-inch LCD iPhone.
The 6.1-inch LCD model in particular could account for 65 to 75 percent of total iPhone shipments from 3Q 2018 to 3Q 2019.