Compal, Hon Hai Precision/Foxconn, Pegatron, and Wistron have filed a countersuit against iPhone LTE modem supplier Qualcomm in an attempt to prevent Qualcomm from successfully forcing them to pay certain licensing fees related to the iPhone's assembly (via Bloomberg). The move is a response to a lawsuit from May when Qualcomm sued the four suppliers for "breaching their license agreements" by failing to pay royalties on the use of Qualcomm's technology in the assembly of Apple's devices.
Now, in a court filing today, the four companies have claimed that Qualcomm is asking for payments "massively in excess" of what it would normally receive. If the countersuit is successful, Apple said that it could cost Qualcomm billions in refunded fees and damages. For the manufacturers' part, the companies described the Qualcomm suit as "yet another...anticompetitive scheme" by Qualcomm.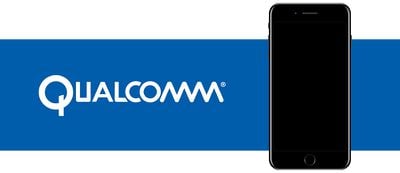 According to The Wall Street Journal, Apple is said to be covering the legal fees associated with the four manufacturers' defense, and that it would soon file a separate motion to combine the new countersuit with its own suit against Qualcomm, creating one unified case.

Apple's key contention is that Qualcomm is asking the court to force the contract manufacturers to pay licensing fees due on iPhones above the level the chipmaker normally receives.

The manufacturers -- Compal, Hon Hai Precision and its Foxconn subsidiary, Pegatron Corp., and Wistron Corp. -- denied violating any payment agreements. They called the Qualcomm suit against them "yet another chapter of Qualcomm's anticompetitive scheme to dominate modem chip markets, extract supracompetitive royalties, and break its commitments to license its cellular technology on fair, reasonable and non-discriminatory terms."
Apple and its manufacturing partners have also responded to a separate Qualcomm court filing, in which the LTE modem supplier requested an injunction to force Apple's iPhone manufacturers to keep paying royalties during the legal battle. Apple, Compal, Foxconn, Pegatron, and Wistron have objected to the request, stating that "there's no harm to Qualcomm waiting to get paid" until the end of the case, when the court determines the correct amount.
Earlier this week, Qualcomm CEO Steve Mollenkopf said that an out of court settlement for the case could still happen, although he had no specific confirmation or update on the legal battle that suggested a settlement was coming between Qualcomm and Apple. The two companies have been embroiled in the court case since January, sparked by an FTC complaint about Qualcomm's anticompetitive patent licensing practices, and continued with Apple's own lawsuit against the supplier, and then Qualcomm's countersuit response.
If there is no settlement between Apple and Qualcomm, the case is expected to continue for the next few years.