Samsung Expected to Match 2018 iPhone Sizes With Galaxy S10 Lineup
Apple is widely rumored to introduce a trio of new iPhones in September, including a second-generation 5.8-inch iPhone X, a larger 6.46-inch version dubbed iPhone X Plus, and a 6.1-inch model with only some iPhone X features.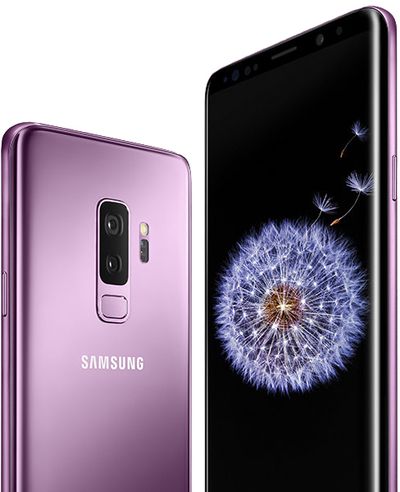 Galaxy S9
Perhaps inspired by those plans, respected analyst Ming-Chi Kuo claims that Samsung will follow suit with its Galaxy S10 lineup next year, including 5.8-inch, 6.1-inch, and 6.4-inch models. Kuo outlined his predictions in his latest research note with TF International Securities, seen by
Business Insider
.
Kuo notes that the 6.1-inch and 6.4-inch models will be equipped with an ultrasonic fingerprint scanner built into the display, a feature that Apple decided against on the iPhone X. The technology will also be built into the Galaxy Note 10 later in 2019, according to his research note.
Kuo's prediction will surely reignite a long-standing debate about Samsung copying Apple, just weeks after the two companies settled a seven-year-long lawsuit in which Samsung was found guilty of copying the iPhone's design.
Korean website The Bell previously reported that one of the Galaxy S10 models will be a lower-cost option, in line with the rumored 6.1-inch iPhone, which is expected to have some iPhone X features like Face ID, and an edge-to-edge display with a notch, but lack others, like an OLED display.
The lower-cost Galaxy S10 will also have tradeoffs, such as a fingerprint scanner built into the edge of the device, according to Kuo.
The Bell also said the Galaxy S10+ will feature five camera lenses: three on the back, and two on the front. The rear system is said to include the same 12-megapixel wide-angle lens and 12-megapixel telephoto lens as the Galaxy S9+, plus an all-new 16-megapixel 120º ultra-wide-angle lens.
Apple is also rumored to introduce at least one new iPhone with a triple-lens rear camera in 2019, but likely not until September, which would likely be after the first triple-lens Galaxy S10 is released, so it's not always Samsung following second. Huawei was first to release a triple-lens smartphone regardless.
Samsung is also said to be considering adding 3D facial recognition to the Galaxy S9 lineup, in line with Face ID on the iPhone X. Galaxy S8 and Galaxy S9 models already feature facial recognition, but it is 2D, and tests proved that the systems could be spoofed with a photo of a face.
One feature that Samsung has yet to copy, unlike several other Android smartphone makers, is the iPhone X's notch. Galaxy S9 models still have slim, uniform bezels along the top and bottom of the display, although Samsung has patented a notched smartphone design, and could use it eventually.
As usual, Samsung will likely unveil its Galaxy S10 lineup at Mobile World Congress in February 2019, with availability in March.