Samsung Ordered to Pay Apple $539 Million in iPhone Design Patent Retrial
The latest Samsung v. Apple trial wrapped up this afternoon after the jury decided that Samsung must pay Apple a total of $539 million for violating Apple's design patents with five android devices sold between 2010 and 2011, reports CNET.
A total of $533,316,606 was awarded to Apple for Samsung's violation of three design patents, while the remaining $5,325,050 was for Samsung's infringement on two of Apple's utility patents.


Samsung and Apple were back in court to redetermined damages after Samsung appealed to the Supreme Court and said that the original damages award, which was set at $399 million after several appeals, was a "disproportionate" sum for the design violation.
The Supreme Court ordered the U.S. Court of Appeals to redetermine the damages amount, leading to today's victory for Apple.
The core issue of the retrial was whether the damages should be based on the total value of the iPhone or if Samsung's fee should be based on just the elements of the iPhone that it copied.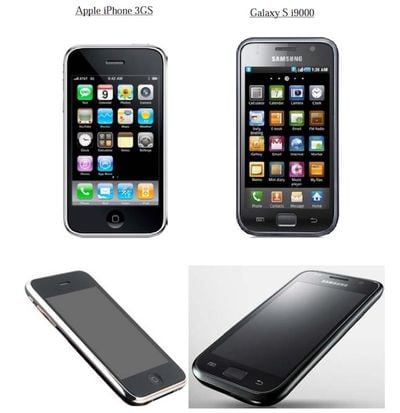 Apple argued that its payment should be based on the full value of the iPhone, while Samsung argued that it should pay a lesser amount. They're seeking profits on the entire phone," argued Samsung lawyer John Quinn. "Apple's design patents do not cover the entire phone. They are entitled to profits only on [infringing] components, not the entire phone."
Apple asked the jury to award $1 billion in damages, while Samsung asked jurors to limit the damages to $28 million. Unfortunately for Samsung, the jury sided with Apple, and the new award is more than Samsung would have had to pay had the retrial not happened.
In a statement, Apple had this to say: "It is a fact that Samsung blatantly copied our design. We're grateful to the jury for their service and pleased they agree that Samsung should pay for copying our products.
Update: Samsung also gave a statement on the verdict: "Today's decision flies in the face of a unanimous Supreme Court ruling in favor of Samsung on the scope of design patent damages. We will consider all options to obtain an outcome that does not hinder creativity."