Mac and Linux video game publisher Feral Interactive today announced that it will begin supporting external GPUs, beginning with the recently-launched Rise of the Tomb Raider: 20 Year Celebration. Apple first launched support for external graphics processors in March with macOS High Sierra 10.13.4.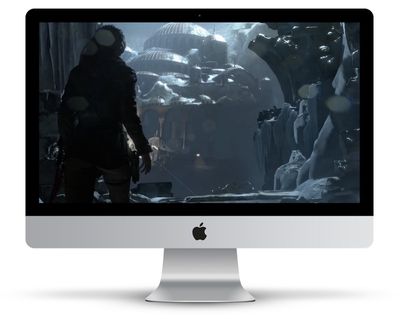 The addition allows users to connect an eGPU to their Mac through Thunderbolt 3, powering additional performance for better gaming graphics, VR content creation, professional apps, and more. Feral notes that players can use an eGPU with "any Mac supported by Rise of the Tomb Raider," but there could still be limitations due to the power of the Mac's CPU, despite the boost from the eGPU.
As of now, Rise of the Tomb Raider is the only Feral game confirmed with eGPU support, but the company says that it is working to introduce eGPU support to more of its games. Announcements for these titles will take place on Feral's social network and news feeds, which anyone interested can find on today's FAQ page.
Feral first revealed Rise of the Tomb Raider would be coming to Mac back in February, and then it launched in April. The game is a port of the console game from 2016, and is the second part of the rebooted franchise that began with Tomb Raider in 2013.