Just over two years after "Rise of the Tomb Raider" first launched as an Xbox console exclusive in late 2015, Feral Interactive today announced that it will bring the definitive edition of the game to macOS and Linux this spring. Called "Rise of the Tomb Raider: 20 Year Celebration," the Mac game will be a port of the same title that launched for PS4 in late 2016, bundling the base game with all special add-on and DLC pack content.
"Rise of the Tomb Raider" is a sequel to the series reboot "Tomb Raider" from 2013, letting players control Lara Croft in a new adventure as she seeks an artifact rumored to grant immortality and believed to be located in the lost city of Kitezh. Players control Lara through what developer Crystal Dynamics refers to as "guerrilla combat," configuring Lara's loadout with new tools and weapons, including customizable items like poisoned arrows and explosive shotgun shells.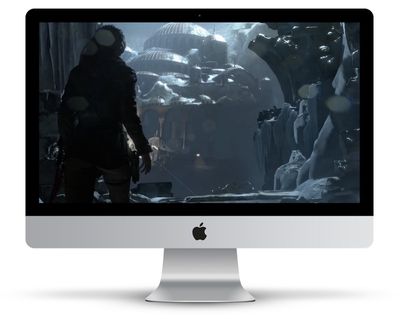 Downloadable content found in the 20 Year Celebration edition includes add-ons like Blood Ties and Baba Yaga, two standalone stories that place Lara at home in Croft Manor and in the Siberian wilderness, respectively. There are also a pair of horde mode levels set in the same locations, called Lara's Nightmare and Cold Darkness Awakened, where players fight off waves of infected enemies.
Other modes and add-on content includes:
Endurance Mode: Two players team up to survive the dangerous forest while plundering crypts for relics.
Extreme Survivor Challenge: In the hardest difficulty setting for the main campaign, players overcome difficult limits of save points, resources, ammunition, and health.
5 Classic Skins: Nostalgic skins from Tomb Raider history: Croft Manor, Tomb Raider II, Tomb Raider II Bomber Jacket, Chronicles Catsuit, and Angel of Darkness.
12 Outfits: Ancient Vanguard (Byzantine-era chain mail), Apex Predator (bear fur, animal claws, and warpaint), Shadowrunner (tactical vest and watch cap), and the reimagined Antarctica outfit inspired by Tomb Raider III.
Expedition Cards: Players use cards in Expedition Mode to boost their score, modify their abilities, and apply cosmetic effects like Big Head Enemies.
Feral Interactive has not yet announced specific Mac system requirements, a launch date, or how much the game will be, but said this information "will be revealed closer to release" in the spring. Currently, the PS4 version of "Rise of the Tomb Raider: 20 Year Celebration" is priced around $30.