Apple Hit With Second Class Action Lawsuit Over 'Defective' Keyboards in Recent MacBook, MacBook Pro Models
A second class action lawsuit has been filed against Apple over problematic keyboards in recent MacBook and MacBook Pro models.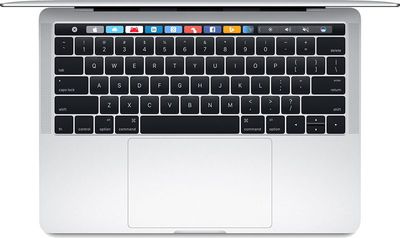 Like the first lawsuit last week, this complaint alleges that small amounts of dust or debris accumulating on 2015-and-later MacBook and 2016-and-later MacBook Pro keyboards can render the butterfly switch mechanism underneath individual keys non-functional, according to court documents obtained by MacRumors.
In some cases, the butterfly switches can also break entirely, resulting in the affected key becoming detached from the keyboard.
MacRumors first highlighted customer complaints about the 2016 MacBook Pro keyboard over a year ago, including non-functional keys, strange high-pitched sounds on some keys, and keys with a non-uniform feel.



An excerpt from the complaint, filed on Tuesday by law firm Schubert Jonckheer & Kolbe in Northern California district court:
Butterfly switch keyboards, which Apple began to use in 2015 on MacBooks and in 2016 on MacBook Pros, are even lower profile than scissor switch keyboards. They still prop up the keys with two intersecting pieces of plastic, but their profile is so low that the key barely "travels" at all when it is depressed. True to the name, butterfly switches are also extremely delicate, held in place by four tiny threads of brittle plastic.

Because of their very low profile, butterfly switch keyboards are resistant to the accumulation of debris underneath the keys. However, when dust or other tiny particles do get beneath the keys, they are capable of rendering the butterfly switches nonfunctional. Further, the keys cannot be removed without risk of damage to the keyboard, which may void Apple's warranty.
Much of this second lawsuit echoes the first, including the proposed class:
This action is brought on behalf of all persons in the United States who purchased, other than for resale, a model year 2015 or later Apple MacBook or a model year 2016 or later MacBook Pro laptop, which are equipped with "butterfly switch" keyboards.
The complaint alleges that "thousands of consumers" have suffered from these issues, with customer complaints prevalent across blog posts, tweets, comments on forums like MacRumors, an ongoing Change.org petition that has received over 27,000 signatures, and even a satirical song and video.
That video is "I Am Pressing The Spacebar and Nothing Is Happening," uploaded to YouTube by song-a-day musician Jonathan Mann.
The complaint adds that Apple is "aware of" or "should have known" about the defect through either pre-release product testing, customer complaints, or a combination of the two, but has "at all times failed to disclose that the keyboard is defective" because repairs and replacements prove to be costly.
Apple knew or should have known of the butterfly keyboard defects before the Laptops were ever sold to the public, as a result of standard pre-release product testing. Further… Apple knew or should have known that that the Laptops were defective shortly after the 12-inch MacBooks were initially launched in 2015, and shortly after the MacBook Pros were launched in 2016, because, shortly after each launch, the keyboard was the subject of numerous consumer complaints published on the Company's website and a variety of internet message boards, such as MacRumors, social and traditional media, and retailer websites. Apple continuously monitors its own website as well as other web pages, including MacRumors…
This complaint, like the first, acknowledges that Apple provides a support document with instructions to clean the keyboard of a MacBook or MacBook Pro with "an unresponsive key or "a key that feels different than the other keys," but notes that the steps "will not permanently repair the defect."


Instead, many customers have to resort to the Genius Bar. In the United States, Apple charges an out-of-warranty fee of $700 to replace the keyboard on affected MacBook Pro models, as the process requires replacing the entire top case assembly, the aluminum enclosure housing the keyboard, trackpad, and speaker grilles.
The complaint shares an experience had by Joey Baruch, one of three named plaintiffs alongside Remy Turner and Christopher Martin:
On July 21, 2017, plaintiff Joey Baruch purchased a MacBook Pro 13 inch from an Apple Store in Sherman Oaks, California, and paid $1,974.91. Following his purchase, Mr. Baruch set up his Laptop for use pursuant to the instructions provided. Shortly after his purchase, Mr. Baruch noticed the sporadic failure of certain keys, including the space bar, and the "R", "T" and "Enter" keys. This problem impaired Mr. Baruch's ability to use the Laptop.

Once the problem began, Mr. Baruch tried to clean the keyboard using compressed air or a cloth to improve its performance, but the problem progressively got worse. By early 2018, the keyboard performance became so bad that Mr. Baruch needed to take his Laptop in for repair. He brought it to the Apple Store in Sherman Oaks, California. Mr. Baruch is informed and believes his keyboard was replaced. The repair occurred at or about the end of March 2018, and took approximately 5 days.

Shortly thereafter, however, the issue resumed on the new keyboard, including the space bar sticking. The Laptop's poor performance has become a substantial distraction for Mr. Baruch. Mr. Baruch continues to experience repeated failures with the functionality of the keyboard on his MacBook Pro.
Apple is accused of, among other things, violating California's Unfair Competition Law and Consumer Legal Remedies Act, the Magnuson-Moss Warranty Act, the Song-Beverly Consumer Warranty Act, and breach of express warranty.
The complaint demands that Apple pays punitive damages in an amount to be proven at trial, publicly discloses the defect, and reimburses customers for all costs attributable to the defective MacBook or MacBook Pro keyboards. A jury trial has been demanded in Northern California district court.
Given the overlapping claims, it is likely that the complaints regarding the keyboards will eventually be consolidated into one class action lawsuit.