Some 2016 MacBook Pro Owners Experiencing Keyboard Problems
Apple's latest line of notebooks introduced an entirely revamped keyboard featuring flatter keys built using a second-generation butterfly mechanism, designed to optimize for stability while also maximizing travel. The butterfly mechanism was originally introduced in the ultra thin MacBook, but a newer version was implemented in the MacBook Pro.
There have been mixed opinions about the keyboard of the 2016 MacBook Pro due to its vastly different feel compared to previous-generation MacBook Pro models, and it appears the new butterfly mechanism may also be less reliable compared to older construction techniques.
A growing number of customers who have purchased a 2016 MacBook Pro are running into issues with the keyboard, including non-functional keys, strange high-pitched sounds on some keys, and keys with a non-uniform feel. There are dozens of threads both on MacRumors and on the Apple Support site.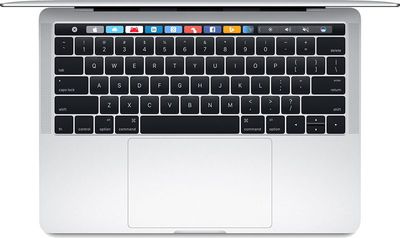 One of the most significant issues appears to be keys that make different higher-pitched sounds than other keys in some cases, a problem that was caught on video by MacRumors user monstermac77. As is demonstrated, when the caps lock key is pressed, it makes a sound that's much different than the other keys on the keyboard.
According to monstermac77, the issue is only reproducible when the Mac is warm, a complaint that has been echoed by several other MacBook owners in the thread, suggesting heat plays a role in activating the problem. Some users are experiencing the
overly-clicky sound
without heat, though.
Within a few hours of using my Late 2016 MacBook Pro 15" with Touch Bar, I noticed some of my keys made a very high pitched click on-key-up (when I lifted my finger from the pressed down key). The affected keys: Caps Lock, left Option, and very occasionally: Delete, 'H', and 'C'.
The high-pitched clicking sound is irritating, but it isn't as serious as some of the other issues MacBook Pro owners have been having with the keyboard. In some cases, certain keys on the MacBook Pro miss clicks, enter double letters, or refuse to respond at all, a problem that we here at MacRumors have also experienced. MacRumors reader rroch describes the problem:
My 2016 15'' MacBook Pro arrived yesterday (as one of the first). 63 of the 64 keys work fine. But the i-key most of the time types the letter twice. I suggest you test out your keyboard thoroughly. With auto-correct it can be easy to think it works. However, my password contains the letter i, and I quickly became super frustrated not being able to get my password right (come to think about it, maybe that's why they added Touch ID, so you don't need the keyboard for passwords). So take a document, turn off auto-correct, and check all the keys. I found that the failure happens more frequently with a slight delay before releasing the key.
It's not clear what's causing the issue with the keys that suddenly become non-functional, but the butterfly mechanism is sensitive and can be interrupted by something as simple as a bit of dust. In our case, with the machine we had that was experiencing issues with a specific key, the problem cleared up on its own, but other MacBook owners have not been so lucky.
One other minor keyboard complaint is an inconsistent feel across keys, with some keys that feel spongier than others or that don't press down consistently. This seems to be related to a problem with the butterfly mechanism which some users report having fixed with a needle or other thin tool, but most people should not try that sort of repair at home.
While many of the complaints seem to be focused on the 15-inch MacBook Pro with Touch Bar, some users have also had problems with both the 13-inch model with a Touch Bar and the 13-inch model with no Touch Bar.
Customers who are experiencing keyboard problems should visit an Apple Store or an Apple Authorized Service Provider. In most cases, Apple is offering repairs and replacements for affected users, especially those who have verifiable hardware problems related to skipping keys, but some MacRumors readers have needed to go through several replacement machines to find a keyboard that doesn't experience issues.
Keyboard replacements are also not a simple matter on a machine as complex as the MacBook Pro, and users should expect repairs or replacements to take multiple days. According to reports from customers who have sought repairs, Apple is outright replacing most Touch Bar models while sending non-Touch Bar models out for repairs.