Apple Demands $1 Billion From Samsung for Design Patent Violations as New Damages Trial Kicks Off
Apple and Samsung are back in court this week for a damages retrial that will determine just how much Samsung has to pay Apple for infringing on Apple design patents. Samsung was found guilty of violating the patents back in 2012, but the two companies have been fighting over the amount of money Samsung should pay as a result for the last six years.
The core issue between the two companies is whether the damages should be based on the total value of the device, or whether Samsung should pay a fee based just on the elements of the phone that it copied.


Apple is of the opinion that its payment should be based on the full value of the iPhone, while Samsung is arguing that it should pay a lesser amount based only on a portion of the iPhone's value. "They're seeking profits on the entire phone," argued Samsung lawyer John Quinn. "Apple's design patents do not cover the entire phone. They are entitled to profits only on [infringing] components, not the entire phone."
Yesterday was spent picking jurors, while opening arguments and testimony started today. Key Apple executives like Tim Cook and Jony Ive will not be testifying during the trial, but Richard Howarth, senior director of the Apple Design Team will discuss the design process, and Susan Kare will also take the stand to talk about user interface graphics design.
Apple vice president of product marketing Greg Joswiak was first up to testify this afternoon, where he said that the design of the iPhone is central to Apple's products and that Apple took a huge risk with its development.
Joswiak: With the #iPhone, "we were really risking everything that was making Apple successful at the time…We really were betting the company." #appsung — Mike Swift (@Swiftstories) May 15, 2018
Back when the verdict of the lawsuit was originally decided in 2012, Samsung was ordered to pay $1 billion, but that was eventually reduced
to $548 million
.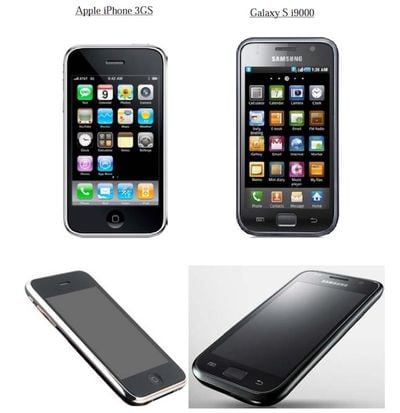 Of that $548 million, which Samsung paid to Apple in 2015, $399 million was earmarked for the design patent infringements. Samsung at the time argued that it had been ordered to pay a "disproportionate" sum for the design violation, and appealed to the Supreme Court for reduced damages.
Samsung's appeal was somewhat successful, and the Supreme Court ordered the U.S. Court of Appeals to redetermine the amount Samsung owes Apple for the design patent infringement, which leads us to the trial that's taking place this week.
Apple is asking for a $1 billion award from Samsung during the damages retrial this week, and has argued that while it's a lot of money, "Samsung infringed millions and millions and millions of times." Samsung, meanwhile, has asked the jury to limit damages to $28 million.