Susan Kare, Greg Joswiak to Testify in Upcoming Apple v. Samsung Damages Retrial
Apple and Samsung today submitted their witness lists for an upcoming retrial in the long running patent infringement battle between the two companies, reports CNET.
Neither Apple CEO Tim Cook nor design chief Jony Ive will be taking the stand, but several other notable figures will be providing testimony during the retrial. Apple will call Richard Howarth, a senior director on the Apple Design Team, along with Greg Joswiak, vice president of product marketing.


Howarth will discuss the design process at Apple, the design patents that were infringed upon, and other design topics, says CNET, while Joswiak will talk about Apple's marketing approach for its devices and the competitive nature of the smartphone market.
Apple also plans to call Susan Kare, who designed many of the early icons for Apple's Macintosh computers, to talk about icon and user interface graphics design. Other witnesses include Ravin Balakrishnan, a professor of computer science; Alan Ball, an industrial design expert; Julie Davis, a consultant with expertise in damages analysis; and Karan Singh, another computer science professor.
Samsung will call Justin Dension, its senior vice president of mobile product strategy and marketing, along with Drew Blackard, senior director of product marketing and Jinsoon Kim, a vice president at Samsung's Corporate Design Center.
Apple and Samsung's latest damages retrial will kick off on Monday, May 14, with the aim of determining how much Samsung has to pay Apple for infringing on three Apple design patents.
The two companies have been fighting in court since 2011, when Apple sued Samsung for copying the iPhone's design. Apple was initially awarded $1 billion in 2012, but after several appeals and retrials, the award was reduced to $548 million.
Samsung paid Apple the $548 million in 2015, with $399 million of that total awarded to Apple for the design patent infringements. Samsung at the time argued that it was asked to pay a "disproportionate" sum for the design violation, and appealed to the Supreme Court to reduce that portion of the award.
Apple had been awarded damages based on the full value of the infringing device, while Samsung argued that it should pay damages based only on the infringing portion.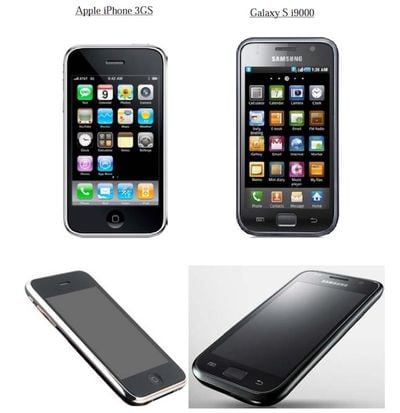 The original devices involved in the 2011 patent infringement case


Samsung's appeal was successful, and the Supreme Court ordered the U.S. Court of Appeals to redetermine the amount Samsung owes Apple for the design patent infringement. The U.S. Court of Appeals sent the case back to the district court, which brings us to the May trial.
During the retrial, Samsung will argue that the damages awarded to Apple should be less than the original award because the infringed Apple patents represent only a small part of the design of the entire Samsung smartphone in question. Apple, meanwhile, will argue that it deserves damages based on the full value of the device.