Apple Reportedly Planning to Release Most Affordable 9.7-inch iPad Ever in Late 2018
Apple is "considering" releasing an updated low-cost 9.7-inch iPad next year with a starting price that's $70 cheaper than its existing equivalent, according to sources from upstream suppliers.
In March 2017, Apple released its most affordable iPad, a $329 entry-level 9.7-inch device with internal specs similar to the iPad Air 2, but with a thicker and heavier enclosure. According to DigiTimes, Apple's 2018 version of the 9.7-inch iPad could cost even less at around $259, in a bid to attract more demand from price-oriented consumers and maintain its current tablet shipments of 10 million units a quarter.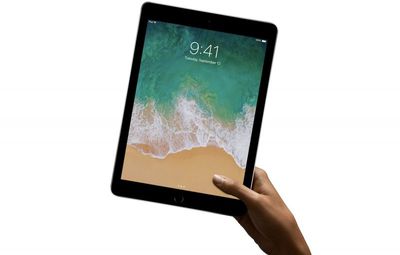 With the new device, the sources expect the tablet market to witness a new wave of price competition among first-tier players including Samsung Electronics, Amazon, Huawei and Lenovo.

The sources pointed out that Apple's new iPad may arrive in the second quarter of 2018 and in addition to regular consumers Apple is also looking to expand the inexpensive iPad into the industrial and service sectors.
In its November earnings call, Apple reported double-digit unit growth in iPad sales for the second consecutive quarter, but did not provide a breakdown of sales across tablet models. Prior to that, in June, the company reported sales of 11.4 million iPads, an increase of 15 percent compared to the year-ago quarter. iPad revenue was also up, but only 2 percent year over year, suggesting Apple was selling a lot of new lower-priced 9.7-inch iPads in particular.
The worldwide tablet market declined for a tenth straight quarter on a year-over-year basis during the first months of 2017. When the news broke in May, Apple reported that it sold 8.9 million iPads in the quarter, down from 10.2 million iPads in the same period the year previous, marking the 13th consecutive quarter that it had sold fewer iPads on a year-over-year unit basis.
According to the sources cited today, Apple's aggressive pricing strategy with the next 9.7-inch iPad aims to offset the continuing overall decline, which has seen most second- and third-tier brand vendors already step out of the market.
According to the same sources, Apple is likely to outsource the production of the new 9.7-inch iPad to Compal Electronics, while giving the device's PCB orders to Compeq and Unitech Printed Circuit Board. However, all the companies declined to comment on their orders or clients.