Barclays Says Second-Generation iPhone X Could Have Smaller Notch
Apple will launch a trio of new iPhone models later this year with a second-generation TrueDepth camera system, which will potentially be reduced in size, according to a research note issued today by analysts Andrew Gardiner, Hiral Patel, Joseph Wolf, and Blayne Curtis at investment bank Barclays.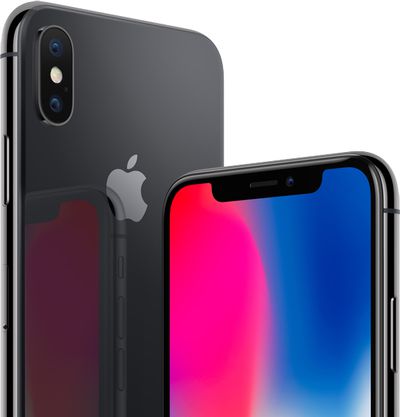 While the analysts believe the new TrueDepth system will only "evolve slightly," they predict it could allow for a "smaller notch" on the 2018 range of iPhones with Face ID, which is rumored to include a second-generation iPhone X, a larger iPhone X Plus, and an all-new mid-range 6.1-inch LCD model.
MacRumors obtained a copy of the research note, which also corroborates rumors about Apple extending Face ID to the iPad Pro this year:
Based on several data points within the 4Q17 reporting period and our supply chain meetings at CES, we remain confident that Apple is set to deploy its TrueDepth 3D sensor across the iPhone range in 2018 and to also add it to the pending iPad Pro refresh as well.

Given the complexity and multiple years spent developing the current generation of module, combined with supplier comments over the past month regarding multi-year customer commitments, we do not envisage a major change to the architectural make-up in 2018 […]

We do expect the sensor to evolve slightly, potentially reducing in size (i.e., smaller notch) and improving in specificity […] helping to further drive very strong growth [for some Apple suppliers] in 2H18 as the second generation of sensor ships in this year's new iPhones.
A smaller notch would be a welcomed change for critics of the iPhone X design, but it remains to be seen if it will happen so soon. An earlier rumor suggested the notch won't be reduced in size until 2019 or later, and it's generally expected that 2018 iPhones will look virtually identical to the iPhone X.
The prevailing thought is that Apple doesn't want to deal with the type of delays it faced with the iPhone X last year, and by keeping the hardware relatively unchanged, suppliers could avoid some retooling. However, it's certainly possible the TrueDepth camera system could be slightly shrunk down this year.
Beyond this year, the Barclays analysts believe Apple is "working hard" on a rear-facing TrueDepth camera system for future iPhones. The technology could be ready by 2019, but it sounds too far out to know for certain.
A key discussion point regarding 2019 is whether or not Apple will be ready to insert a rear or world-facing sensor, given the additional complexity associated with a greater range and field of view and […] the potential safety implications for the human eye.

Our discussions with suppliers suggests Apple and its partners are working hard on a world-facing solution, but development is ongoing and with over 18 months to go until the 2019 iPhone cycle, not all is yet determined.
The rear-facing TrueDepth camera system would pave the way for expanded augmented reality capabilities on iPhones. Apple has repeatedly expressed a profound interest in augmented reality, and recently highlighted some use cases of the technology in areas like education and gaming with a new page on its website.
Bloomberg News previously reported that Apple is exploring rear-facing 3D sensing, to be added to iPhones as early as 2019, while KGI Securities analyst Ming-Chi Kuo agrees the technology won't be ready in 2018, so there does appear to be consensus about back-and-front TrueDepth being a next-year feature.
Apple's trio of new iPhones should be announced in September as usual, while the new iPad Pro with Face ID could debut in June.