Claimed 'iPhone X Plus' Displays and Digitizers Shown in Leaked Photos
New photos claimed to be of the rumored 6.5-inch "iPhone X Plus" screen and digitizer have been shared on the MacX forums [Google Translate], with the poster claiming the parts come from a "trial run of production equipment" at LG's facilities in Vietnam.
The first photo shows a single digitizer held in a person's hand, and the overall size certainly appears larger than an iPhone X part, while the relative size of the notch to the digitizer's width is slightly different than on the iPhone X. At least one rumor has, however, claimed the second-generation iPhone X could have a smaller notch, so we shouldn't necessarily expect the notch-to-display proportions to be the same between iPhone X generations.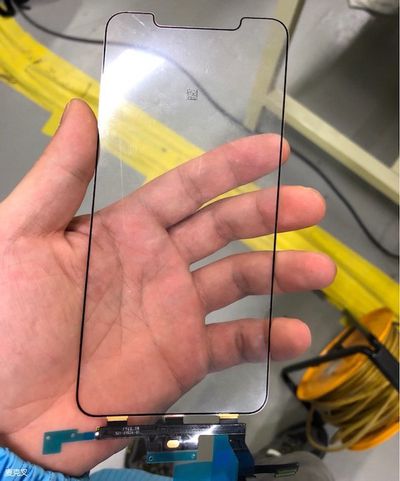 The digitizer includes a flex cable at the bottom of the part for connecting to the iPhone's logic board, and the part number printed on the cable is similar to the format typically used by Apple.
An apparent date code also shown on the flex cable points to a production date in the 46th week of 2017, which would correspond to mid-November, so this isn't a particularly recent part although there could be substantial lag between digitizer production and the part's incorporation into a full display assembly.
The second photo shows a tray containing a set of four assembled display/digitizer components. Again, the size appears larger than the corresponding iPhone X part based on the relative size of the small earpiece slot visible on one of the parts. The rear design of the part is also very similar but not identical to the iPhone X display assembly.


Samsung is the exclusive supplier of OLED displays for the iPhone X, but previous rumors have indicated LG could become the supplier for the so-called iPhone X Plus this year, so the purported location of these photos at LG's plant in Vietnam fits with those rumors. Apple has reportedly invested billions of dollars to help LG get its OLED display production up and running to increase overall supplies and give Apple more flexibility in not needing to rely solely on Samsung.


Apple is rumored to be launching three new iPhones around the usual September timeframe this year: a second-generation iPhone X with the same 5.8-inch OLED display size, a larger "iPhone X Plus" with a 6.5-inch OLED display, and a new LCD-based model with a similar full-face display to the iPhone X design but measuring about 6.1 inches.
(Thanks, Siting!)