AirPods Tidbits: Hidden Apple Watch Features, Durability Test, and High Resale Prices
Apple's AirPods are now making their way into the hands of the first round of customers who ordered the wireless headphones last Tuesday, and more tidbits of information about the device have been shared online as users play around with Apple's newest product.
Apple Watch Features
One Apple Watch wearer noticed that when a call comes in through the wearable, there's a custom AirPods button when the headphones are connected and playing music. The AirPods button replaces the usual green answer button, simply designating that the call will be relayed through the AirPods and not through the Apple Watch speaker.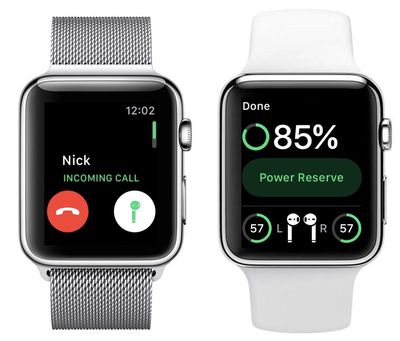 Users of Apple's wearable can also swipe up from their watch face, tap battery percentage in control center, and check on their AirPods' battery levels from the Watch. Otherwise, the AirPods' battery levels can be checked in the iPhone's battery widget.
Durability Test
As is the case with most new Apple devices, durability tests are also underway, and YouTube channel EverythingApplePro this week shared one of the first major real-world drop and water tests with the AirPods. In the video, the headphones are put through basic drop tests from waist and ear height, and then to upwards of ten feet. Scuffs and marks hit the charging case hardest, but the AirPods themselves made it through largely unscathed thanks to their lightweight build. Most importantly, both the AirPods and the charging case continued to work normally after each drop.
Water tests were also conducted on the AirPods, including a washing and drying cycle that confirmed the headphones and the case will survive and function as expected even after accidentally including them in a load of laundry. The channel's ultimate stress test was five minute submersion under one foot of water. Even with those extreme conditions, the AirPods synced up with the iPhone immediately after submersion, and both headphones were "working perfectly."
Resale Prices
Naturally, with so many people looking to gift the AirPods to family and friends for Christmas, resale prices are rising on eBay. Most auctions are sitting around the $250 mark with hours left to go, and guaranteed shipping by Christmas, but some Buy it Now prices are set at upwards of $350 and $500. Prices will only continue to inflate as Christmas grows closer and shipping costs rise to overnight packages.
Availability and Tracking
Certain retailers like Best Buy in the United States and Carphone Warehouse in the United Kingdom have restocked AirPods throughout the week, but Apple's online website now has an estimated delivery in mid-February for most countries. Anyone who wants to keep as up to date as possible on AirPods availability can use iStockNow's tracking map to see where the headphones are currently available.
Users are likely to glimpse a map filled with red pins indicating no stock available, but we've seen occasional green pins show up throughout the morning. You'll have to be fast though, as they sell out very quickly.