Gene Munster Predicts Apple Will Eventually Earn More From AirPods Than Apple Watch
Despite selling for $159, considerably less than the Apple Watch at between $269 and $1,499, longtime Apple analyst turned venture capitalist Gene Munster believes AirPods will be "bigger than the Apple Watch" over the next decade.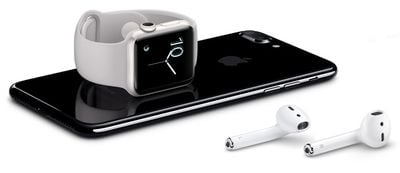 Munster predicts that AirPods will contribute "about the same amount of revenue" to Apple's pocket as the Apple Watch by the company's 2022 fiscal year. He also predicts that AirPods will have an average price of $200 by then, as the product shifts towards what he calls "augmented audio."
AirPods: Bigger Than Apple Watch. Over the next 10 years, we anticipate that AirPods will be bigger than the Apple Watch as the product evolves from simple wireless headphones to a wearable, augmented audio device. While both AirPods and Apple Watch should continue to grow, we see AirPods contributing about the same amount of revenue as Apple Watch by FY22. We expect the AirPods ASP to increase from $159 today to $200 in FY22 as the product shifts to augmented audio.
Apple doesn't disclose AirPods or Apple Watch sales in its quarterly earnings results. Both products are instead grouped into its "Other Products" category, alongside sales of iPods, Apple TVs, Beats products, and accessories. Any revenue or sales numbers that circulate around are purely estimates.
Apple reported $2.87 billion revenue from "Other Products" last quarter, a 31 percent increase from $2.18 billion in the year-ago quarter.
Early last month, Apple CEO Tim Cook said the response to AirPods has been "great," with the wireless earphones remaining hard to come by.
"Demand for AirPods significantly exceeds supply, and growth in Beats products has also been very strong," said Cook. "In fact, when we combine Apple Watch, AirPods, and Beats headphones, our revenues from wearable products in the last four quarters was the size of a Fortune 500 company."
Despite launching over six months ago, AirPods continue to have a 6-week shipping estimate for orders placed on Apple's website. Some third-party resellers have occasionally had them in stock with earlier delivery.
Apple analyst Neil Cybart recently said Apple is "underpricing" the Apple Watch and AirPods in an effort to bring new users into its ecosystem. He said this pricing strategy was "unimaginable" ten years ago, when Apple was often accused of pricing products artificially high—aka the so-called "Apple Tax."
Cybart said a strong case could have been made for Apple to price AirPods at $249, or even $299. By selling them for $159, he thinks Apple has "removed all available oxygen from the wireless headphone space," and forced other wireless headphone makers to cut their own prices in order to remain competitive.
AirPods have been well received by early adopters, achieving a 98 percent customer satisfaction rate in a recent survey conducted by Experian and market research firm Creative Strategies.