AirPods and iPad Listed as Top Selling Electronics During This Year's Record-Setting Cyber Monday
Yesterday was Cyber Monday, an annual shopping event in the United States, United Kingdom, and many other countries that's part of the holiday shopping season and offers users notable discounts on a vast array of consumer products. Last night, Adobe released its online shopping data for this year's Cyber Monday, stating that November 27, 2017 is projected to set a new record and become the "largest online sales day in history" with a total of $6.59 billion spent by the day's end.
Compared to 2016, Cyber Monday 2017 saw a 16.8 percent year-over-year increase in sales, and it fared better in revenue compared to last week's big shopping days: Black Friday 2017 brought in $5.03 billion and Thanksgiving Day brought in $2.87 billion. Adobe's statistics leveraged Adobe Sensei and Adobe Analytics to analyze data from one trillion visits to over 4,500 retail sites and 55 million SKUs. Of all these data points, Apple and its products were found at the top of a few lists.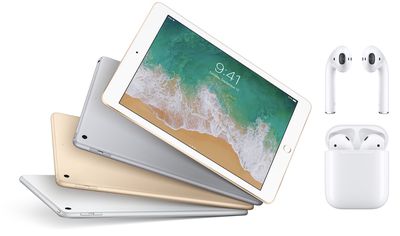 The AirPods were listed as overall top sellers yesterday, while iPads were included in the best-selling electronics category, alongside AirPods again, Google Chromecast, Samsung Tablets, Nintendo Switch, and more. In terms of discounts, Walmart was one of very few retailers with a brief sale on AirPods yesterday, marking the $159.00 earphones down by $15. Numerous retailers had sales on a variety of iPads, including the 9.7-inch iPad and 10.5-inch and 12.9-inch iPad Pro.
Shoppers on mobile helped set a new record with 47.4 percent of visits coming from mobile devices (39.9 percent on smartphones and 7.6 percent on tablets). Revenue earned from users shopping on mobile grew 39.2 percent year-over-year and reached a new all-time high of $1.59 billion. Of all mobile devices used to shop on Cyber Monday this year, iOS was in the lead with an average order value of $123, while Android was at $110.

"Shopping and buying on smartphones is becoming the new norm and can be attributed to continued optimizations in the retail experience on mobile devices and platforms," said Mickey Mericle, vice president, Marketing and Customer Insights at Adobe.

"Consumers are also becoming more savvy and efficient online shoppers. People increasingly know where to find the best deals and what they want to purchase, which results in less price matching behavior typically done on desktops. Millennials were likely another reason for the dramatic growth in mobile, with 75 percent expecting to shop via their smartphone."
The biggest discounts were for TVs (21.1 percent off of the normal price on average), toys (18.8 percent), and computers (14.7 percent). In total, the 2017 holiday shopping season so far (marked as beginning on November 1) has seen a total of $50 billion in online revenue, jumping up 16.8 percent from 2016. According to Adobe, "this will be the first-ever holiday season to break $100 billion in online sales."