Apple is 'Looking Into' Limited Reports of Incoming Call Delays on iPhone X
The Financial Times today highlighted a limited number of reports from users experiencing delays with incoming phone calls on the iPhone X. Apple later confirmed to MacRumors that it is "looking into these reports."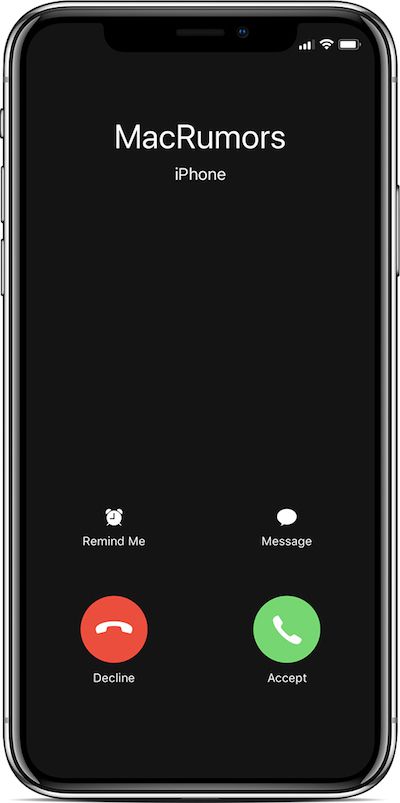 The report, which links to a few discussions on the Apple Support Communities, notes that hundreds of customers have complained that the iPhone X's display experiences delays in turning on for up to 10 seconds during incoming phone calls, preventing these users from tapping the Accept or Decline buttons.
Indian blog PiunikaWeb rounded up similar complaints on the Apple Support Communities in January, but it appears affected iPhone X owners have been experiencing this issue since shortly after the device launched in November.
Based on what we've read, it appears that affected iPhone X units begin ringing when they receive a phone call, but the display does not turn on to show the caller ID or Accept and Decline buttons for a brief period—sometimes even longer than 10 seconds—which typically results in the call being missed.
The issue doesn't appear to be fixed in the latest iOS 11.2.5 software update, and based on the complaints, it would appear that all versions back to at least iOS 11.2 are affected. Earlier versions of iOS 11 could be affected too.
MacRumors hasn't been able to reproduce this issue, and we've seen only a handful of comments on our discussion forums related to the matter, but we did find a dozen more complaints from users across Twitter and Reddit.
Apple is likely collecting data from affected customers so that its engineers can investigate the matter, as it routinely does with any potential hardware or software issues, so contact Apple Support if you are affected. The issue likely can and will be addressed in a future software update.
Apple has dealt with a number of iPhone X hardware and software issues in recent months, some more widespread than others, including a defect causing green lines to appear on some displays, temporary unresponsiveness in cold temperatures, and the rear-facing camera failing to autofocus.
Last week, reports broke that Apple has decided to delay some new features planned for iOS 12 until next year so that it can double down on the performance and quality of the iPhone and iPad operating system in the near term.