Several iPhone X Owners Encountering Green Line on Display Due to Potential Hardware Defect
A limited but increasing number of iPhone X owners have encountered a green line appearing on the smartphone's display.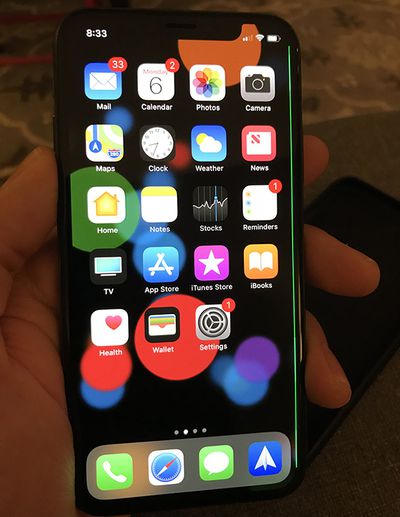 At least 25 customers have shared photos of the potential hardware defect across the
Apple Support Communities
,
Twitter
,
Facebook
,
Reddit
, and the
MacRumors forums
since the iPhone X launched a week ago. Of course, in a production run of millions of iPhone X units, it is a small percentage of devices affected so far.
"So I was playing with my new phone and all of a sudden, this happened," said one MacRumors forum member with the alias tmiles81. "It's a really bright line going down the entire right side of the phone."

The green line wasn't visible on any of the affected iPhone X units when they were first taken out of the box, but rather developed spontaneously after some period of usage in normal conditions. The devices involved also don't appear to have been dropped or damaged in any way.
"Day one and a bright green line has appeared down the right side of the iPhone X," said Apple Support Communities user benvolio1979.
Many of the user reports claim that restarting or even fully restoring the device doesn't remove the green line, which typically runs vertically along the right or left side of the display, but can show up elsewhere on the screen.

The issue doesn't appear to be limited to specific iPhone X models or locations. We've seen reports from owners of both 64GB and 256GB configurations in Silver or Space Gray in the United States, Canada, Poland, and Australia at a minimum. If you are affected, share a photo in the comments section below.
MacRumors hasn't been able to reproduce the issue. Apple declined to comment in an emailed response from a spokesperson.
Apple has been replacing affected iPhone X units free of charge, according to customers who contacted the company. Apple also appears to be collecting data from the incidents so that its engineers can investigate the matter, as it routinely does with any potential hardware or software issues.

The green line could be an isolated defect with the iPhone X's OLED display. Samsung's Galaxy S7 also uses OLED and
suffered from a similar issue
last year in which a pink line appeared on some displays. Samsung acknowledged the issue as hardware failure and worked to replace affected devices.
If you experience this problem, we recommend booking a Genius Bar appointment or contacting Apple's support team via phone, email, or online chat. Apple is generally helpful in these situations.
Update: TechCrunch notes that the iPhone X display has a new diamond subpixel pattern and, as such, all green sub-pixels appear in lines. The report speculates that there could be an electrical fault in some of the devices that is causing voltage to flow to all of the green sub-pixels.