Popular photo and image editing software Pixelmator Pro was today updated to version 1.0.6, adding customizations for the crop tool along with a whole slew of other improvements and bug fixes.
According to the Mac App Store release notes, the update introduces an option for custom aspect ratios for the crop tool, which can also be saved as custom crop presets. This should make cropping to your exact specifications quicker and easier even across different projects.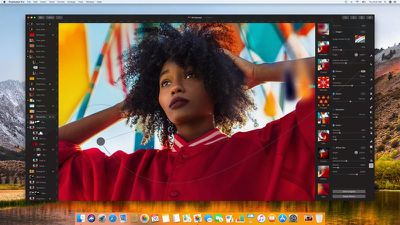 With this new version of Pixelmator Pro, files exported to JPEG will be saved with a .jpg extension instead of .jpeg, and files can now also be exported in BMP and GIF formats.
Improvements have also been made to other tools, such as the Type tool, the selection tools, and the Color Selection tool, with a full list of new improvements available below:
Use the Crop tool to crop with your own custom ratios.
Create and save custom crop presets.
The Type tool will now be highlighted when a text layer is selected.
If no text is selected, clicking a text preset will now add a new text layer with the preset style applied.
When using the Type tool's Color Picker, pressing the Escape key will now close the Color Picker, as it should.
Drag shapes from the Layers view to the Shapes palette to save them to your collection.
The selection tools will now be highlighted if there is an active selection.
A number of performance improvements make the selection tools faster and more reliable.
You can now copy, cut, paste, and duplicate the components inside shapes.
The Color Selection tool now works on layers with color adjustments.
You can now hold down the Space bar to move selections while using the Rectangular and Elliptical selection tools.
Dozens of additional bug fixes and small tweaks included in Pixelmator Pro 1.0.6 are listed in the Mac App Store update history.
Pixelmator Pro, released in late November, is an updated and more advanced version of Pixelmator, which has been a popular photo editing app on Macs for years now. Pixelmator Pro was built from the ground up for the Mac and it takes advantage of the latest macOS software additions like Core ML, Metal 2, and more.
Compared to Pixelmator, Pixelmator Pro offers a reimagined workflow with simplified and streamlined editing tools, a single-window editing interface, intelligent image editing features powered by machine learning, a new painting engine, an improved repair tool, and much more.
Pixelmator Pro can be downloaded from the Mac App Store for $59.99. [Direct Link]