Apple Launching New Internal Fitness Challenge for Employees, Prize is a Unique Apple Watch Band
Starting in February, Apple will be hosting an internal company wide fitness challenge for all of its employees, with a prize that includes a unique fitness-themed Apple Watch band.
The band, as seen in a photo shared by 9to5Mac, appears to be similar to Apple's Woven Nylon bands. It comes in a solid black color but has an accent loop in a dark pink/red shade, lime green, and light blue, the three colors that represent the Activity rings on the Apple Watch.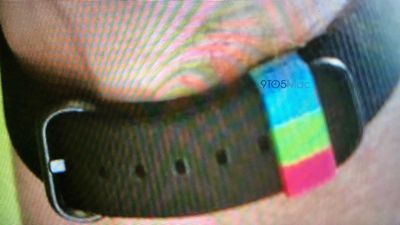 The red colored ring tracks a person's overall movement and calorie burn throughout the day, and the amount of movement necessary to fill it up will vary based on each person's personal goal. The green ring represents exercise and can be completed with 30 minutes of exercise per day (based on an elevated heart rate), while the blue ring represents how many hours out of the day an Apple Watch user stands up and moves. One minute of standing movement per hour is required to fill the stand ring.
To earn the special Apple Watch band, employees will need to complete the challenge at the "gold" level, earning points by filling their Activity rings for a set number of days.
Apple last year hosted a "Close the Rings" Apple Watch fitness challenge for employees. Rewards for completing that challenge included pins in gold, silver, and bronze, awarded based on performance, along with a T-shirt that included the colorful Activity rings and the phrase "Close The Rings Challenge 1.0."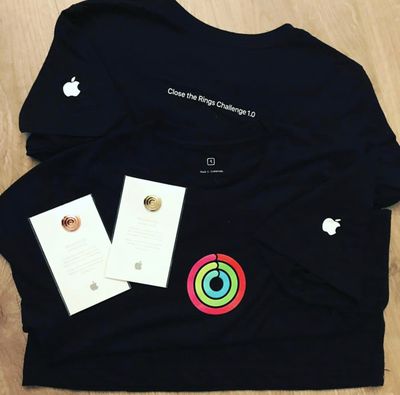 The prize for the 2017 employee-only "Close the Rings" challenge.
While this will be the first activity challenge that rewards employees with a unique Apple Watch band, Apple has done employee-only Apple Watch bands in the past. In 2016, for example, Apple
provided employees
with exclusive rainbow-colored Apple Watch bands at the LGBT Pride festival in San Francisco.

Unique Pride band provided to employees in 2016


Apple made a similar version available in 2017, so it's always possible these special Apple Watch bands could be released to the public at some point.
The February fitness challenge is internal only and will be limited to employees, but Apple has done many other public fitness challenges. One of the most recent challenges was the "Ring in the New Year" activity challenge that asked Apple Watch owners to close all activity rings for seven days in a row in January to earn a special badge in the Apple Watch app on iPhone.