Apple Holds 'Close the Rings' Apple Watch Fitness Challenge for Employees
In February, Apple held a "Close the Rings" Apple Watch fitness challenge for its employees, designed to encourage them to be more active.
Employees who completed all stand, movement, and exercise challenges on the Apple Watch each day for a month earned an Activity rings pin (which matches in-app badges) and a matching T-shirt. Pins appear to be available in gold, silver, and bronze, based on performance, while the T-shirt being awarded is black with colorful Apple Watch-style rings and text that reads "Close The Rings Challenge 1.0" on the back.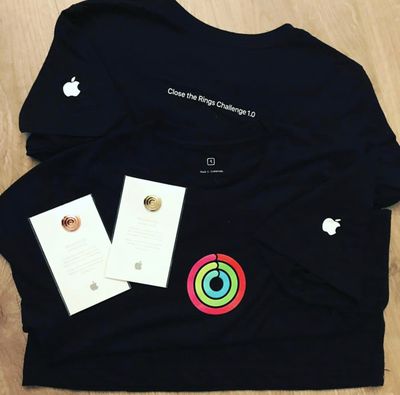 As noted by French site WatchGeneration many Apple employees have been posting images and messages on social networking sites like Instagram and Twitter, announcing the completion of the challenge.
Each of the pins is accompanied by the following message:
Welcome to the winner's circle.

You did it. You completed the Close the Rings Challenge, and this badge is proof. Wear it, display it, or place it on your fridge.

Let it be a reminder that even though the Challenge is over, your healthier lifestyle is just beginning.
While this challenge is limited to Apple employees, Apple has done public challenges that resulted in special in-app badges. On Thanksgiving, Apple challenged Apple Watch owners to run 3.1 miles as part of a Thanksgiving Day Challenge, and on New Year's, Apple encouraged Apple Watch owners to "Ring In The New Year" by closing all three Activity rings each day for a week in January.
Apple's Close the Rings employee challenge appears to coincide with a new "Close Your Rings" ad campaign that kicked off in January, but it is part of a series of wellness challenges that Apple encourages employees to complete each month.