Apple Earns Sixth Place on 'Top 100 Global Technology Leaders' List
Thomson Reuters today published its first "Top 100 Global Technology Leaders" list, designed to pinpoint and celebrate "the industry's most operationally sound and financially successful organizations." The list's top five companies are Microsoft, Intel, Cisco, IBM, and Alphabet.
Apple sits in sixth place, followed by Taiwan Semiconductor Manufacturing Company, SAP, Texas Instruments, and Accenture. Thomson Reuters explained that it assessed each company using a 28-data-point algorithm to "objectively identify organizations with the fortitude for the future in today's complex business environment."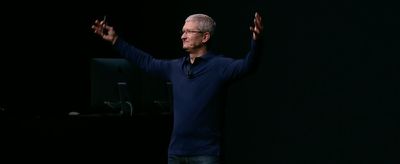 Specifically, each company saw its performance in eight categories measured before being ranked: Financial, Management and Investor Confidence, Risk and Resilience, Legal Compliance, Innovation, People and Social Responsibility, Environmental Impact, and Reputation.

"Tech companies operate at warp speed confronting competitive, regulatory, legal, financial, supply chain and myriad other business challenges. Oftentimes, their financial success overshadows their operational integrity, making it difficult to identify those organizations with true longevity for the future," said Alex Paladino, global managing director of the Thomson Reuters Technology Practice Group. "With the Top 100 Global Tech Leaders, we've identified the unique data points that embody technology-industry leadership in the 21st century; congratulations to the companies that made the list."
Outside of the top 10, companies like Amazon, Facebook, Mastercard, Samsung, Qualcomm, and Pegatron made it onto the list. These remaining 90 companies on the list are not ranked, but were measured and added based on the same 28-factor algorithm as the top 10. The entire list was restricted to companies that have at least $1 billion in annual revenue as well.
The full report goes into greater detail and breaks down how each individual category was researched for the companies. For example, the number of granted patents that are issued each year factored into Innovation, and an overall news sentiment and global media score measured a company's Reputation. For Legal Compliance, Thomson Reuters measured the amount of litigation where the company was a defendant "in the areas of employment/labor, intellectual property, commercial law and contracts, civil rights, and unfair competition."
The researchers didn't go into Apple's performance statistics for each of the eight categories, but they did provide a few tidbits about the overall rankings. In total, 45 percent of the 100 companies are headquartered in the United States, followed by Japan and Taiwan tied in second place with 13 companies each, and then India with five. In terms of continents, North America led with 47 companies, Asia followed closely with 38, Europe had 14, and Australia had one (stock transfer company Computershare).
Apple topped a few lists over the past year, including Interbrand's "2017 Best Global Brands," Fortune's "World's Most Admired Companies," and climbing to become the World's Most Profitable Company on the Fortune Global 500 list. Conversely, in December Apple dropped to 84th on Glassdoor's annual list of the best companies to work for in the United States, after earning the 10th spot on the same list years prior in 2012.