Apple has been awarded the number one spot on Fortune's annual list of the "World's Most Admired Companies." The 2017 list marks Apple's tenth consecutive win as the most admired company in the world according to Fortune, which collected the data from 3,800 executives, analysts, directors, and industry experts to end up with the final ranking.
After Apple, the top five slots are rounded out by Amazon, Starbucks, Berkshire Hathaway, and Disney. Last year, Alphabet ranked in second place but the company has fallen down to sixth in 2017. One of Apple's direct rivals in the hardware and software space, Microsoft, has been placed in the ninth spot in a tie with Facebook.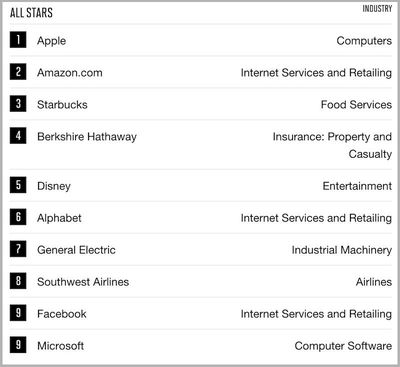 Fortune ranks companies through a collection of "key attributes of reputation," including areas like innovation, people management, social responsibility, and quality of products/services. This year, however, Apple's industry rank wasn't reported "due to an insufficient response rate in the computer industry."
Like in previous iterations, Fortune started the list by looking at a collection of the 1,000 largest U.S. companies ranked by revenue, along with 500 non-U.S. companies with revenue of $10 billion or more. The list was then further whittled down to 680 companies in 28 countries, and Fortune survey collaborator Korn Ferry Hay Group began asking the 3,800 experts to rank companies on the nine criteria.