In June, Apple was ranked as #3 on the 2017 Fortune 500 annual list of the top U.S. corporations based on gross revenue. Today, the Fortune Global 500 rankings have been released, using the same data collected in the earlier rankings but expanding it and adding in companies on a global scale, resulting in a list that shares the 500 largest companies in the world.
Apple sits at #9 on the list in terms of total revenue, a spot it retains from 2016, and having climbed from #15 in 2014 and 2015. Where Apple sits above all other companies is in the profits category, earning the title of the most profitable company in the world with an annual profit of $45.6 billion. Apple earned the top spot despite a 14.4 percent drop in its annual profits compared to the previous year.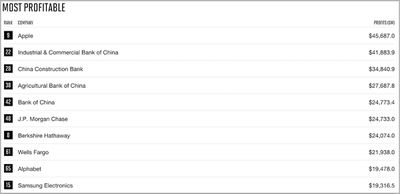 Rounding out the top 5 slots below Apple are all banks based in China: Industrial and Commercial Bank of China ($41.8 billion), China Construction Bank ($34.8 billion), Agricultural Bank of China ($27.6 billion), and Bank of China ($24.7 billion). Further down the most profitable rankings are Alphabet at #9 ($19.4 billion), Samsung Electronics at #10 ($19.3 billion), and Microsoft at #13 ($16.7 billion).
Apple's profile on the Fortune Global 500 ranking includes a chart of its history on the list, including its origins at #422 in overall revenue back in 1995, its dropping off of the list from 1998 to 2005, and its peak growth to #9 in 2016. Otherwise, Apple's profile includes the same quote as its Fortune 500 ranking, describing a company that "appeared to hit a wall" this past year with iPhone sales.

After more than a decade of solid growth fueled first by the iPod music player and then by the even more popular iPhone, Apple finally appeared to hit a wall, with lackluster sales "relatively speaking" for other products such as the iPad and Apple Watch and a heavy reliance on upgraded phone models. But the most profitable publicly-traded company in the world is investing heavily in software and its efforts in new areas of opportunity, including automobiles, remain in development (and under wraps). Apple was founded in 1977 and is headquartered in Cupertino, Calif.
Lackluster iPhone sales contributed to an overall revenue decline for Apple throughout much of 2016, but now it's predicted that the company will see a noticeable uptick in sales thanks to the launch of a significantly redesigned "iPhone 8," expected to be announced and debut this fall.