Apple's 500th Store and First in Korea Opening January 27 Ahead of 2018 Winter Olympics
Apple today announced that its first retail store in South Korea opens on Saturday, January 27, at 10:00 a.m. local time, just a few weeks prior to the 2018 Winter Olympics opening ceremony in Pyeongchang on Friday, February 9.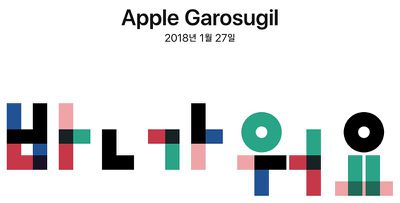 The store is located in the upscale Garosugil shopping area in the Gangnam District of Seoul, the capital of South Korea. The location will be open seven days per week and, like other Apple retail stores, it will host Today at Apple sessions and have a Genius Bar for device repairs and troubleshooting.
By the looks of it, this should be Apple's 500th retail store around the world. That total includes the Apple Park Visitor Center and Infinite Loop locations, which both sell Apple products alongside promotional merchandise, and it also factors in the rare permanent closure of Apple's Simi Valley store last year.
It's possible that Apple could announce at least one other new store opening between now and late January, such as its nearly ready Vienna, Austria location, in which case the Korean store would obviously not be exactly 500th. We've reached out to Apple for an official store count and we'll update if we hear back.
Apple is promoting its Garosugil store with a colorful, animated greeting in both English and Korean on its website, with a matching mural along the storefront that now reveals the January 27 opening date to those passing by.
Apple
confirmed plans
to open its first store in South Korea just over a year ago, and both construction and hiring have been underway since. The store was originally
reported to open December 30
, but the location evidently wasn't quite ready in time, and it'll now officially open in less than two weeks.
Apple's first two stores opened in May 2001 at shopping malls in Tysons Corner, Virginia and Glendale, California. By our count, Apple now has 272 retail stores in the United States, while this Garosugil location will be its 228th retail store elsewhere, pushing it to the 500 mark in less than 17 years.
Apple remains in the process of renovating dozens of those stores with a fresher aesthetic. Many of the locations have expanded by adding a floor or taking over adjacent storefronts, while some stores have relocated entirely.