Apple's first official retail store in South Korea is set to open just before the end of the year on Saturday, December 30, reports Korean site ETNews [Google Translate].
Much of the work on the upcoming store in Seoul's Gangnam district was finished in November, and the construction company that renovated it says that Apple's plan is to open it up on December 30. Barring any special problems at the last stage of construction, the store is likely to open up on that date at 10:00 a.m. local time. Hiring and training for the store has also been completed.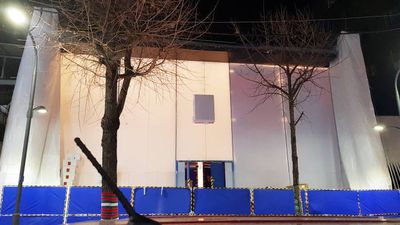 Image via ETNews


Apple retail store chief Angela Ahrendts is rumored to be planning to attend the opening of the first Korean Apple Store, which ETNews says features the same modern design that's been introduced in many Apple Stores around the world over the course of the last couple of years.
Specifically, the site says there's a wide glass front and 18 product tables showing off iPhones, Apple Watches, iPads, and MacBooks. This is a two-floor store, and other areas like the "Today at Apple" meeting place and the Genius Grove may be located upstairs.
The store is located in the upscale Garosugil shopping district in Gangnam, which houses ritzy restaurants, cafes, and high-end stores.
Apple has recently opened several new locations in Asia, including Taiwan and Singapore. This particular store in South Korea could be Apple's 500th store, so long as no additional Apple Stores open before December 30.
Apple currently has 499 Apple retail stores around the world, not counting Apple Watch boutiques and taking into account the recent closure of the Simi Valley Apple Store. Apple's new Visitor's Center at Apple Park was the 498th store, while the 499th is the new store located in Downtown Brooklyn, which opened in late November.
Update: The upcoming Apple Store in South Korea did not open on December 30 as stated by ETNews. It is still under construction and will open at a later date.