Multiple analyst reports last week pointed towards Apple reducing its shipment forecast for the iPhone X in Q1 2018 from 50 million units down to 30 million units. Today, analyst Nicolas Baratte of investment banking company CLSA followed up those reports with a note that stated the iPhone X's shipment forecasts "remain inflated," and that any Q1 2018 volume estimate over 35 million units "will prove too high" (via CNBC).
In a research note sent out to its clients today, CLSA said that Apple's iPhone X shipment numbers are "unlikely to improve" upon the company's Q4 2017 sales. Similar to the reports shared last week, the reasoning behind the analyst's prediction is the belief that those who wanted an iPhone X immediately -- and were accepting of the high price tag -- have already received one. Average consumers looking at the iPhone X might not see the value in the $1,000 smartphone and opt to purchase another model in early 2018.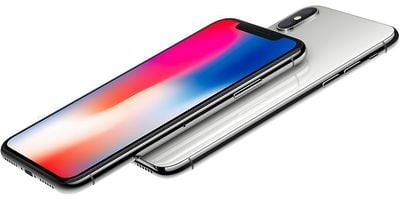 CLSA tracked iPhone X shipment volumes at 30 to 35 million in Q4 2017, and noted that it is "very skeptical that volumes will increase" in early 2018.

"We maintain that 2017 fourth-quarter iPhone X volumes were at 30 to 35 million and we are very skeptical that volumes will increase in the first quarter of 2018," CLSA analyst Nicolas Baratte wrote in an note Tuesday. "This does not reconcile with the expectation of pent-up demand or push-out to the first quarter of 2018 in our opinion: consumers who wanted to get an iPhone X in December 2017 already have it."
Although the 30 to 35 million range has become a popular estimate for iPhone X shipment forecasts in Q1 2018, other analysts have predicted higher volumes for the smartphone. Loop Capital increased iPhone X shipment numbers to between 40 and 45 million units in Q1 2018, while analysts at Jefferies forecast about 40 million iPhone X sales for the quarter.
CLSA also echoed previous rumors for the iPhone X in 2018, predicting a "lower priced X-gen option," meaning that the firm believes Apple will lower the price of the current iPhone X "if volume proves problematic." CLSA also expects to see an iPhone X Plus of some kind in 2018, which follows rumors that began last August and said that Apple could launch an iPhone with a 6.4-inch OLED display in 2018. Ming-Chi Kuo furthered those reports last November by laying out his own 2018 iPhone lineup prediction: 5.8-inch and 6.5-inch iPhones with OLED displays, and a 6.1-inch iPhone with an LCD display.