Apple will reduce its shipment forecast for the iPhone X in the first quarter of 2018 from 50 million units down to 30 million units, according to a report this week by Economic Daily News (via Reuters). A handful of similar downgraded shipment predictions were shared by Apple analysts recently, most believing that the price of the iPhone X will lead to a decline in user demand early next year. The reports have caused shares in both Apple and some of its suppliers to fall.
JL Warren Capital predicted shipments of 25 million iPhone X units for Q1 2018, citing a "high price point and a lack of interesting innovations," while Sinolink Securities said the device's $1,000 price would "dampen consumer enthusiasm." Now that early adopters have gotten their hands on the iPhone X and the first wave of demand has been fulfilled, the high price of the device is again causing market watchers to predict "weakened demand" in early 2018 (via Bloomberg).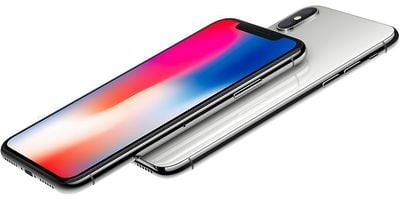 Analysts have lowered iPhone X shipment projections for the first quarter of next year, citing signs of lackluster demand at the end of the holiday shopping season.

"After the first wave of demand has been fulfilled, the market now worries that the high price of the iPhone X may weaken demand in the first quarter," Zhang wrote.
Lowered shipment and demand expectations are typical around this time of year. In 2016, a Nikkei report said that Apple would reduce iPhone 7 production by 10 percent in Q1 2017 because of "sluggish" demand and accumulated inventory building up throughout the holiday season.
In terms of availability, iPhone X has been pretty easy to obtain for those looking to purchase the smartphone. Shipping times improved consistently in the lead-up to Christmas and availability at U.S. Apple Stores increased to an average of 75 percent, up from 44 percent the week before Christmas, according to Gene Munster.
Although downgraded shipping estimates have begun to proliferate, other analysts are looking at higher shipment forecasts for the iPhone X. Loop Capital increased iPhone X shipment numbers to between 40 and 45 million units in Q1 2018, while analysts at Jefferies forecast about 40 million iPhone X sales for the quarter.