Beats 1 Charity Auction Offers Behind the Scenes Studio Tour With Zane Lowe
Apple's Beats 1 Radio division is teaming up with auction site Charitybuzz to raise money for MusiCares through an auction that offers a behind-the-scenes tour of the Beats 1 studio in Los Angeles with Beats 1 DJ Zane Lowe.
Described as a one-day internship, the auction provides one winner with a full day at Beats 1, as well as access to a few members of the Beats 1 team. In addition to spending time in studio with Zane Lowe, the auction winner will also get to attend a mentoring lunch with Beats 1 Global Operations Manager and LA Chapter Grammy Governer Julie Pilat.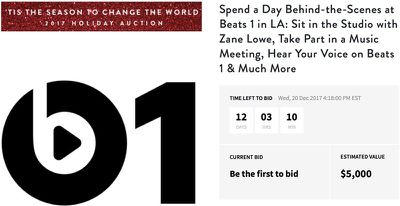 Several other benefits are included as well, like a free pair of Studio3 headphones and the chance to play a song on the Beats 1 radio. A full list of benefits:
- One (1) day at Apple Music's live station, Beats 1, which broadcasts to over 100 countries

- Time in studio with Zane Lowe during his flagship show, which broadcasts Mondays to Thursdays from 9-11am LA time.

- Music Business Mentoring lunch with Beats 1's Global Operations Manager & LA Chapter GRAMMY(R) Governor Julie Pilat.

- Attend a Music Meeting and discuss the Beats 1 List with the head of Beats 1's Music Team. You'll get to discover the most exciting new music in the world.

- Choose a song and play it, live on the radio, during Beats 1 Request.

- Hear your voice on Beats 1! Record a voiceover demo with their Production team.

- Go home and listen to Beats 1 with a pair of Beats Studio3 Headphones (colors may vary).
The person who wins the auction must visit Beats 1 in LA before December 20, 2018. The auction is valid for one person and the winning bidder must personally utilize the award. Transportation and accommodations are not included in the purchase price.
Proceeds from the auction, which has an estimated value of $5,000, will go to
MusiCares
, a foundation run by the National Academy of Recording Arts and Sciences. MusiCares provides resources for musicians in times of need, helping them out in financial, medical, and personal emergencies.
Apple has worked with Charitybuzz many times in the past, auctioning off lunches with iTunes chief Eddy Cue and Apple CEO Tim Cook to raise money for charities that include the RFK Center, Autism Movement Therapy, and the National Association of Basketball Coaches Foundation.