Tim Cook's fifth annual CharityBuzz auction ended this afternoon, earning more than $680,000 for the Robert F. Kennedy Center for Justice and Human Rights.
More than 30 people placed bids for the chance to eat lunch with Tim Cook, and at over $680,000, the auction broke past earnings records which previously topped out at $610,000 in 2013.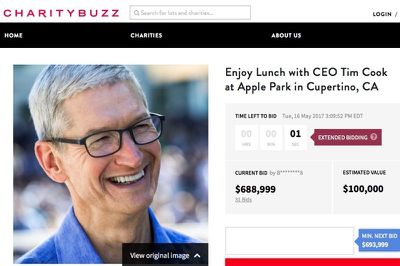 Today's auction winner will be able to eat lunch with Tim Cook at Apple Park, Apple's brand new campus that is still in the final stages of construction. The winner is able to bring one additional person to have a ~one-hour lunch with Cook, and while the cost of the lunch is included in the auction price, travel and accommodations are not.
Unlike past years, Cook's 2017 auction is limited to lunch alone and does not include tickets to an upcoming Apple keynote event.
All proceeds from today's auction will benefit the Robert F. Kennedy Center for Justice and Human Rights, a charity that Tim Cook has now supported for five years. The RFK Center aims to achieve "a just and peaceful world by partnering with human rights leaders, teaching social justice, and advancing corporate responsibility."
Past auctions have raised $610,000 (2013), $330,001 (2014), $200,000 (2015), and $515,000 (2016) for the RFK Center.