Apple Pay Cash Officially Launches Today After Early Roll Out to Many Users Yesterday
Apple has announced that Apple Pay Cash officially launches today for all iOS 11.2 users with an eligible iPhone or iPad model in the United States.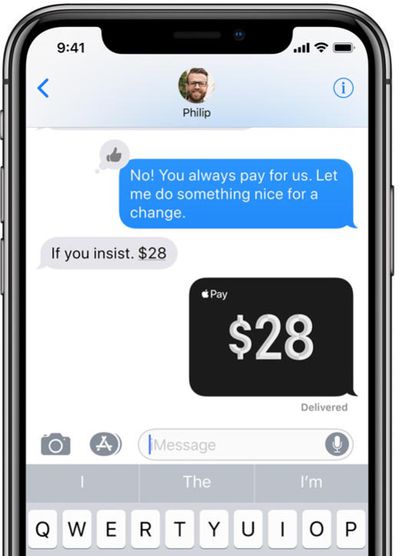 Apple's peer-to-peer payment service actually began rolling out in iOS 11.2 on Monday, but some users received an error message stating the service was unavailable. The activation issues began to resolve for many users later in the day, although there are still a few lasting reports of activation issues.
Apple Pay Cash's official launch today comes three days after iOS 11.2 was released early in order to address a serious date bug that was affecting some users on December 2. While the update introduced Apple Pay Cash, as mentioned in the release notes, the feature had not yet been activated by Apple.
Apple Pay Cash allows for quick person-to-person money transfers, much like competing services Square Cash and Venmo.
After setting up Apple Pay Cash, open the Messages app, tap on the App Store icon, tap on Apple Pay, set the dollar amount, tap pay, select a payment card, and securely authenticate with Touch ID or Face ID. The payment card can be any debit or credit card set up in the Wallet app, or the Apple Pay Cash card.
The recipient taps on the message to receive the funds, which are instantly added to his or her Apple Pay Cash card in the Wallet app. The card's funds can be used to make purchases using Apple Pay in stores, in apps, and on supported websites, or withdrawn to a bank account within one to three business days.
When new users receive money for the first time, the funds are added to their new Apple Pay Cash card once they accept Apple's terms.
You can also send money with Siri, as explained in our How to Use Apple Pay Cash guide, which includes step-by-step setup instructions and other helpful info. Apple Pay Cash is currently available in the United States only. Apple hasn't indicated when the service could expand to additional countries.
Apple Pay Cash is available on iPhone 6 and later, iPhone SE, all iPad Pro models, the fifth-generation iPad, iPad Air 2, and iPad mini 3 models running iOS 11.2. Apple recommends that customers who have updated to iOS 11.2 before today restart their devices if Apple Pay Cash is not showing up.
Apple Pay Cash is also available on all Apple Watch models running the watchOS 4.2 software update released today.