Apple Heart Study
By MacRumors Staff
Apple Heart Study Articles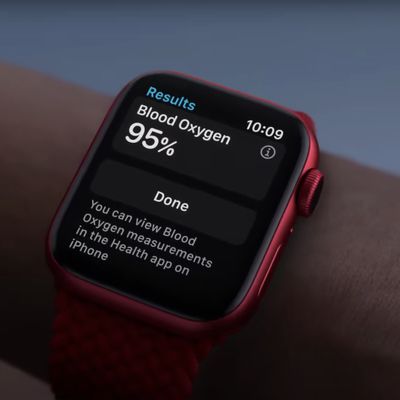 The University Health Network today announced the launch of a new study that will aim to find out how the Apple Watch can help with the early identification of heart failure progression. Cardiologist Dr. Heather Ross is teaming up with Apple to compare data collected by the Apple Watch to data routinely collected from the physical tests heart failure patients undergo. The study will...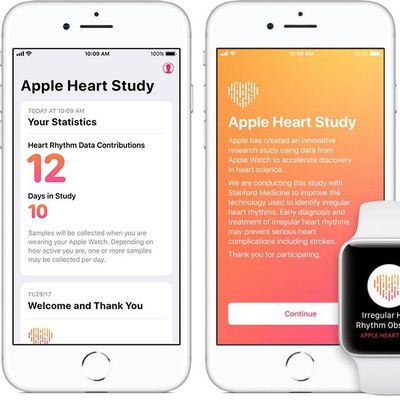 Stanford Medicine today published results from the Apple Heart Study that kicked off in 2017, marking the third time data from the study has been shared (via Reuters and CNBC). The aim of the study, conducted by Stanford and Apple, was to determine whether the Apple Watch is able to detect atrial fibrillation, which can be an indicator of serious heart health problems. Researchers wanted to...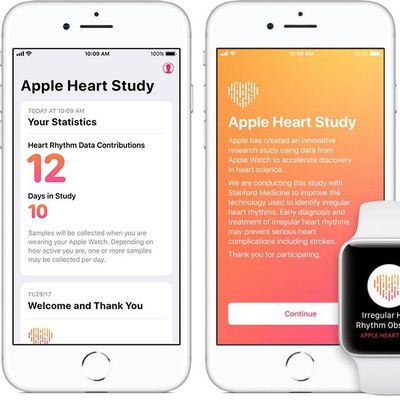 Stanford Medicine researchers presented their findings of the Apple Heart Study at the American College of Cardiology's 68th Annual Scientific Session and Expo in New Orleans today, as noted by Apple in a press release. Apple and Stanford created the study to evaluate the Apple Watch's irregular heart rhythm notification feature, which occasionally checks the wearer's heart rhythm in the...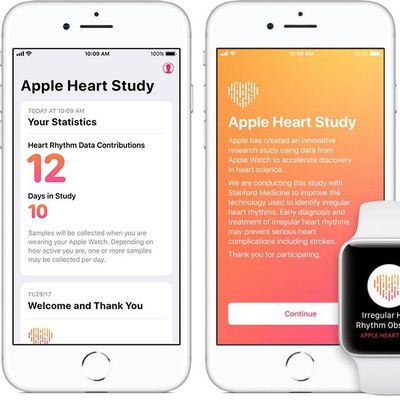 Stanford Medicine has published more details about the future of the Heart Study program it conducted in partnership with Apple, in which it attempted to reliably detect atrial fibrillation in Apple Watch wearers. The condition, which is characterized by an irregular heartbeat, often remains hidden because many people don't experience symptoms. Atrial fibrillation can increase the risk of...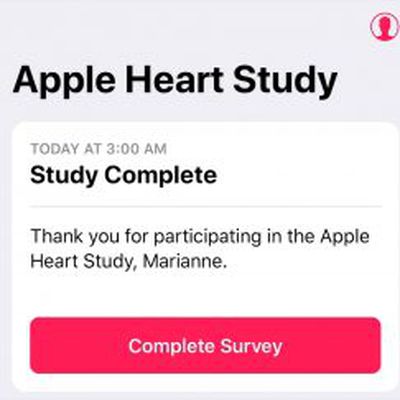 Over the weekend, Apple informed some users who signed up to its Apple Watch Heart Study that their contributions were complete. An app notification thanked them for their participation and asked them to complete an exit-survey about the study, which first launched in November 2017. The study in collaboration with Stanford Medicine was offered to anyone in the United States who was 22...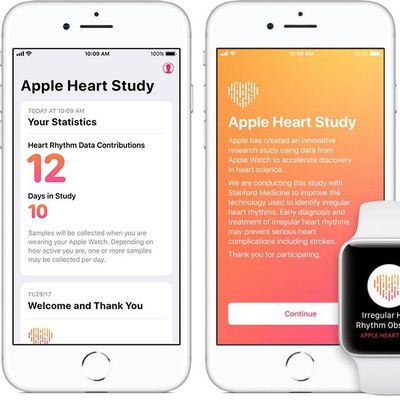 Apple and Stanford University's School of Medicine are no longer allowing new participants to join the joint heart rate study that they're conducting using data gathered from the heart rate monitor of the Apple Watch, according to an updated notice on the Apple Heart Study website. As of August 1, 2018, an enrollment termination date Apple and Stanford first announced when the study launched,...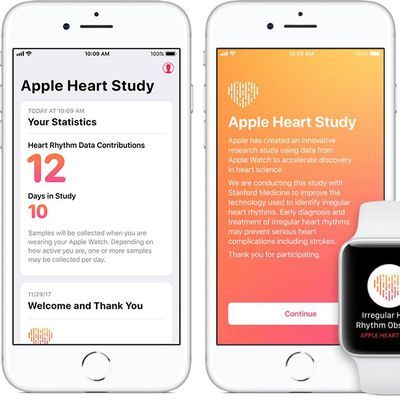 Apple today announced it has launched a ResearchKit-based Apple Heart Study app, which uses the Apple Watch's heart rate sensor to collect data on irregular heart rhythms and notify users who may be experiencing atrial fibrillation. As part of the study, if an irregular heart rhythm is identified, participants will receive a notification on their Apple Watch and iPhone, a free consultation...