Medical smartphone accessory company AliveCor this week received FDA-approval for its EKG Kardia Band, the first medical-grade accessory for Apple Watch. The band has been available in Europe for some months, but the product's clearance by the FDA means it can now be sold in the United States.
The Kardia Band for Apple Watch has an integrated metallic sensor in the strap that enables it to communicate with the company's app to take EKG readings, where it can detect abnormal heart rhythm and atrial fibrillation (AF), much like AliveCor's existing KardiaMobile device.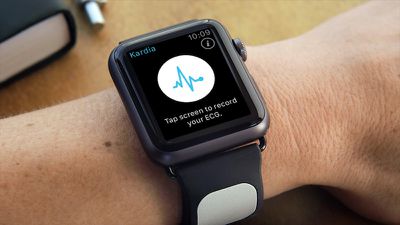 However, the latter device attaches to the back of an iPhone and requires users to hold their phone with both hands for 30 seconds to register a reading, whereas the Kardia Band lets wearers take readings discreetly wherever they are and in real time.
Users need only navigate to the Apple Watch-compatible Kardia app, start a reading, place their thumb on the sensor, and wait for the 30-second analysis to finish. During this time, they can also speak into the Apple Watch's microphone to note the presence of palpitations or shortness of breath, or any dietary habits that could be linked to heart-rate fluctuations.
Recordings are stored and viewed in the Kardia iPhone app, and can also be sent to the user's doctor. The app also connects to Apple's stock Health app, so users can integrate their EKG readings into other fitness data for a more comprehensive picture of their overall health.
According to
TechCrunch
, AliveCor is also introducing a new feature called SmartRhythm that utilizes a neural network for better insights into heart rate data. The company says SmartRhythm can potentially detect an abnormal heart beat using the Kardiaband or KardiaMobile EKG reader.
The AliveCor Kardia Band costs $199 and can be ordered directly from the company's website or from Amazon. Readers should also note that a subscription to AliveCor's premium service ($99 a year) is required to access all of the available features once the 30-day trial period ends.
(Thanks, Anna!)