Supply Chain Hints at Apple Releasing Augmented Reality Headset No Later Than 2019
Taiwanese manufacturer Quanta Computer, a primary assembler of the Apple Watch, has revealed that it is working on an augmented reality product for an undisclosed company that some industry observers believe is Apple.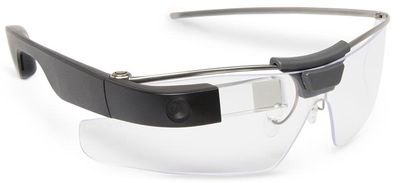 Google Glass Enterprise Edition
Quanta's vice chairman C.C. Leung suggested the device will be a "headset-like gadget with a fully transparent lens that allows users to see through and interact with the environment," according to
Nikkei Asian Review
.
"Currently, we see such a device available in the market no later than the year 2019," he told reporters after the company's earnings conference.
Leung noted that if an augmented reality device could carry a price tag lower than $1,000, it would likely become a hit in the market, although it is unlikely he has any knowledge of Apple's pricing plans if they even exist yet.
Quanta is the second Apple supplier to mention involvement with an augmented reality product after fellow Taiwanese company Catcher Technology said it has been tapped to supply parts for an undisclosed wearable device.
Bloomberg was among the first to report on Apple's work on an augmented reality headset. It said Apple aims to have the technology ready by 2019, and could ship a finished product as early as 2020, which is a slightly longer timeline.
The headset's custom operating system, based on iOS, is reportedly dubbed "rOS" for "reality operating system."
Apple hasn't finalized how users will control the headset and launch apps, but it is investigating touchscreens, Siri voice activation, and head gestures as it creates prototypes, the report said.
Apple CEO Tim Cook alluded to any headset being at least a few years away during a recent interview about augmented reality.
"Today I can tell you that the technology itself doesn't exist to do that in a quality way," Cook said. "We don't give a rats about being first, we want to be best in creating people's experiences. Something that you would see out in the market any time soon would not be something that any of us would be satisfied with."
Cook has repeatedly expressed a "profound interest" in augmented reality, which he favors over virtual reality. Apple's ARKit platform on iOS 11 enables developers to integrate augmented reality features into iPhone and iPad apps, potentially laying the foundation for what's to come.