Apple CEO Tim Cook: Technology Doesn't Exist to do AR Smart Glasses 'In a Quality Way'
Apple CEO Tim Cook recently sat down for a wide ranging interview with The Independent alongside several app developers where he discussed augmented reality in its current incarnation on the iPhone and provided a bit of insight into Apple's plans for future devices that could potentially take advantage of augmented reality, like smart glasses.
As is typical, Cook refused to comment on products Apple has in development, but when questioned about the topic, he said the technology to create a pair of augmented reality smart glasses "in a quality way" does not exist today.
"But today I can tell you the technology itself doesn't exist to do that in a quality way. The display technology required, as well as putting enough stuff around your face - there's huge challenges with that.

"The field of view, the quality of the display itself, it's not there yet."
Cook went on to say that Apple will only ship a product that's the best, reiterating that the company doesn't care about being first to new technology. "We want to be the best and give people a great experience," he said. "But now anything you would see on the market any time soon would not be something any of us would be satisfied with. Nor do I think the vast majority of people would be satisfied."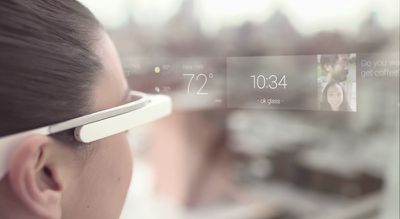 Google Glass augmented reality glasses
Rumors have suggested Apple is working on a pair of augmented reality smart glasses and has
experimented with multiple prototypes
, but based on both Cook's statement today and past rumors, a wearable Apple-branded augmented reality product
is still a ways off
.
Recent information has suggested augmented reality smart glasses are at least a year away or longer, with Apple aiming to figure out the "most compelling application" for an AR headset.
Though the technology does not exist today in Cook's opinion, he did provide some hope for a future AR wearable from Apple. "Most technology challenges can be solved, but it's a matter of how long," he said.
The rest of Cook's interview, which can be read over at The Independent and is well worth checking out, focuses heavily on ARKit and augmented reality. As he has done many times in the past, Cook said AR is huge, will be used by everyone, and will take off much like the App Store or multi-touch functionality.