Here's a Look at the First Wave of Augmented Reality ARKit Apps Hitting the iOS App Store Today
With the launch of iOS 11 today, Apple has turned hundreds of millions of iPhones into augmented reality-capable devices thanks to the support of a new developer framework called ARKit. With this technology, iOS developers can more easily craft AR experiences for users on compatible iPhones and iPads, using each device's built-in cameras, processors, and motion sensors.
As of now, the first wave of these apps are available for you to download and test on the iOS 11 App Store. The first apps range from game updates to practical everyday tools and even apps that encourage a healthier lifestyle, with more refined experiences likely coming in the future once developers get a grasp on what users enjoy with the first wave of apps.
Note that to use ARKit-enabled apps on iOS 11 you must have an iOS device with an A9, A10, or A11 processor. This means ARKit apps can be launched on iPhone 6s, iPhone 6s Plus, iPhone 7, iPhone 7 Plus, iPhone SE, iPhone 8, iPhone 8 Plus, and the upcoming iPhone X. For iPads, you can use the 9.7-inch iPad or the 10.5-inch and 12.9-inch iPad Pro. The older 9.7-inch model of the iPad Pro is compatible as well.
One you have iOS 11 installed on one of these devices, head over to the new App Store and check out some of the ARKit apps listed below to see how Apple's new augmented reality technology works in your own home.

Games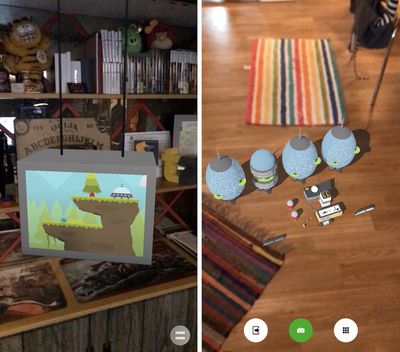 Splitter Critters (left) and Egg, Inc. (right)
- What's it about? Use swipes of your finger to split a colorful landscape and guide alien critters back to their spaceship, avoiding enemies and solving puzzles in the process.
- How's AR used? Scan a flat surface and then place a fully playable version of the main game into the real world, housed within a small white box.

- What's it about? Control an Imperial Knight war machine in the Warhammer 40,000 universe and fight the evil forces of Chaos through 170 single player missions using cannons, missiles, and thermal blasts to defeat your enemies.
- How's AR used? Drop your Imperial Knight from the main game into an AR "Photo Mode" to take snap shots of the war machine in the real world.

- What's it about? A farming simulation game focused on hatching eggs, building hen houses, hiring drivers, and researching advanced technologies to upgrade your egg farm.
- How's AR used? Take a glimpse at your farm in AR with a "Farm To Table" picture-taking mode.

- What's it about? Build, decorate, paint, and create full train sets and then control characters from Thomas & Friends as you drive through your customized train set.
- How's AR used? Bring all of your creations into the real world with the app's AR mode, which places your train set on a flat surface so you can zoom in and around while still being able to interact with various tools and control characters.

Tools

Overstock (left), PLNAR (middle), and Cubit (right)
- What's it about? The main app for the popular online retail website, which lets you shop and discover deals for items like furniture, rugs, home decor, and more.
- How's AR used? Place true-to-life 3D models of thousands of Overstock products right into your home, helping to make sure that the new item's color, size, and design fits your room. Additionally, you can share pictures of the AR models in Messages or social media, add the Overstock item to your cart, and even pay for it with Apple Pay, all without leaving the AR screen.

PLNAR (Free)
- What's it about? A full AR experience, PLNAR allows you to generate a home's floor plan using augmented reality, which the app's creators said will be useful for everyday homeowners as well as for flooring companies, insurance agents, interior designers and home renovation professionals.
- How's AR used? Use your iPhone's camera to generate quick measurements of a room's area and perimeter by guiding a cursor along the edges and corners of the floor. Mark doorways and even use the app's tools to measure other objects like countertops and tables (and any flat surface), then save all of your data into custom projects.

- What's it about? Shop for new and used cars within the app's extensive vehicle database.
- How's AR used? Visualize your potential future vehicle purchase by placing the car into your garage or driveway, which Edmunds said is also a way to confirm that the car will fit where you intend to park it.

Cubit ($0.99)
- What's it about? A "measuring toolbox," Cubit grants you access to features like rulers and box tools, with more coming down the line in future updates.
- How's AR used? Measure the distance between real-life objects using the ruler tool and visualize the size of digital objects with the box tool.

Lifestyle

Fitness AR ($2.99)
- What's it about? The new Fitness AR app syncs with Strava, giving you access to new ways to track your workouts, runs, biking sessions, and more.
- How's AR Used? With Fitness AR, you can connect your Strava account to track the hiking, biking, or running routes that you've taken -- all of which are viewable in AR on a 3D terrain map. For inspiration, there's also a gallery of rides and runs that you can explore from locations around the world, like Yosemite Valley and Mont Ventoux.

Night Sky 5 (Free, premium features at $1.99/month or $9.99/year)
- What's it about? Night Sky is a "personal planetarium," letting you identify stars, planets, constellations and satellites with an iOS device.
- How's AR used? With iOS 11, the app has enhanced its existing AR capabilities with a new "Grand Orrery" premium feature (requiring a subscription). This mode brings the Solar System into your home so you can walk around it, zoom in on planets, see current space missions in the system, and more.

Other Notable Apps
There are already a growing number of ARKit apps showing up on the iOS App Store just a few hours after the launch of iOS 11. For this reason, we'll list some other notable apps below, and update this post throughout the day if we find any more. If you know of one that isn't listed, let us know in the comments!
- RoomScan Pro ($0.99)
- Pcalc ($9.99)
- Carrot Weather ($3.99)
- Human Anatomy Atlas 2018 - $0.99
- Euclidean Lands ($3.99)
- Flat Pack (Free)
- Kings of Pool (Free)
- MeasureKit (Free, expanded toolset for $2.99 in-app purchase)
- Quartz (Free)
- Houzz (Free)
- Build - Home Shopping & Advice (Free)
- Magicplan (Free)
- LightSpace - 3D painting in AR (Free)
- Wayfair – Shop All Things Home (Free)
- ARuler (Free, $2.99 pro version)

Upcoming
Augmented reality apps will only continue to occupy a large segment of the iOS App Store, with major apps previously highlighted by Apple not yet to launch today. One of these is IKEA'S furniture placement app, which it confirmed last week to be called "IKEA Place." The app will be available sometime in "late September."
You'll be able to browse from a selection of IKEA products, choose one, scan the floor around where you would like to see the furniture, and then the AR app will show an approximation of the sofa or lamp in your living room. 2,000 products will be available at launch to test in AR (focused on large items like storage solutions, sofas, and coffee tables), with IKEA confirming continuous updates for the app in the future.
For even more information on all of the software updates that hit today, check out our posts for each below:
- Apple Releases iOS 11 With Revamped Lock Screen, Fresh App Store, New Siri Voice, and Updated iPad Interface
- Apple Releases watchOS 4 With New Watch Faces, Siri Improvements, Gym Equipment Integration, and More
- Apple Releases tvOS 11 With Home Screen Syncing, Auto Dark Mode, and 4K Support for New Apple TV