Tim Cook Calls Today's Launch of iOS 11 and ARKit 'A Day To Remember'
Apple CEO Tim Cook appeared on Good Morning America earlier today to discuss topics surrounding iOS 11, taking place a few hours ahead of the software update's launch later this afternoon. One of the major topics of the conversation Cook had with Robin Roberts centered upon augmented reality and ARKit, which will introduce advanced AR features onto compatible iPhones and iPads.
As he has in the past, Cook talked excitedly about augmented reality, explaining that the AR features of iOS 11 are a "huge" addition to the iPhone and iPad ecosystem and will be "unbelievable" for users.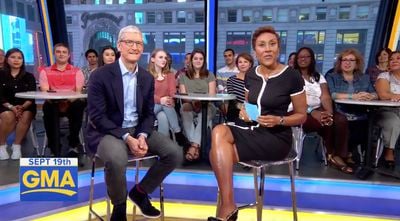 "Well this is huge because it's the first time that hundreds of millions of customers will be able to use AR for the first time. So we're bringing it to mainstream, if you've got an iPhone 6s or later, you have augmented reality today."
Roberts then pointed out that AR has been around for a long time before Apple began to work on the technology, and Cook responded by explaining that the company is "taking the complex and making it simple," with the help of the ARKit developer framework.
Cook capped off the discussion of iOS 11 and ARKit by calling today "a day to remember."

"This is what Apple is so fantastic at. We want everybody to be able to use AR, and so we've taken the complexity that developers would normally have to do in their apps, and made it simple for them to convert all of their apps to an AR experience. And the thing that is very different about Apple is that, in one day, we can make AR available for hundreds of millions of people. That will happen in a few hours from now.
The interview then shifted to the iPhone X and facial recognition, where Cook reiterated that user privacy and security are not an issue with the upcoming smartphone. "Once you place your face in the phone, it's in the phone, and Apple doesn't have it," he explained, further pointing out that only those you allow access to your iPhone will be able to get the data.
"We're very protective of our customers' data. We believe that privacy is very important in this world, there are hackers everywhere trying to steal your information. We want it to be yours, it is not ours."
In response to a viewer question, Cook said the cost of the iPhone X is a "value price" for the technology inside of the smartphone. He also said that "very few people" will actually pay the full price of the iPhone at launch, thanks to monthly payment plans that various carriers and Apple itself offers.
Other topics include Cook's response to the potential end of the DACA program, as well as different user questions surrounding Face ID. You can watch the full nine-minute interview on Good Morning America's Facebook page right here.