Apple began permitting developers to submit 64-bit applications to the iOS App Store back in 2013, allowing for improved app performance and reliability on 64-bit iOS devices. Then in June of 2015, Apple began enforcing that all apps and app updates released on the App Store must use the 64-bit architecture, meaning apps that are still 32-bit have not been updated in well over two years. With the upcoming launch of iOS 11, 32-bit apps won't be supported at all moving forward.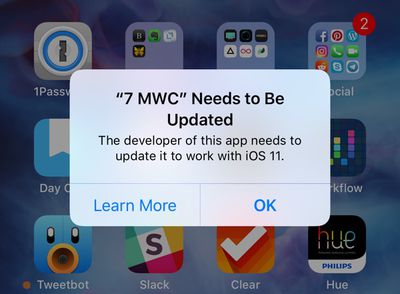 Trying to open a 32-bit app on iOS 11 will present users with this message
Recently,
SensorTower
decided to take a look at the remaining 32-bit apps on the App Store, which amounts to more than 180,000 worldwide. Looking at the last quarter, revenue from 32-bit apps amounted to "less than 1 percent" of Apple's total portion of App Store revenue. The older apps made approximately $37.5 million worldwide in the last quarter, and Apple's cut from that was about $11.3 million -- or "a mere 0.41 percent of its total revenue" from in-app purchases and paid apps on the App Store.
While unsurprising, it's interesting to see the last few apps from the old era of the App Store clinging to life ahead of iOS 11. SensorTower pointed out that the two remaining highest-grossing 32-bit-only apps are "The Amazing Spider-Man" by Gameloft and "Trigger Fist" by Lake Effect, which in August made $45,000 and $36,000 worldwide, respectively. Without updates, these games and any like them will be defunct on any iPhone, iPad, or iPod touch running iOS 11, but Apple won't be losing much profit from the apps' incompatibility with the new software.

As the chart above illustrates, the share of revenue generated by the more than 180,000 remaining 32-bit apps on the App Store worldwide has been steadily decreasing since Apple required all new app updates to be 64-bit in June of 2015. In the third quarter of that year, we estimate that they represented about 1.13 percent of worldwide gross App Store revenue, or approximately $53.5 million. By 3Q16, that amount declined to about $43.6 million, or approximately 0.61 percent of all revenue.
Anyone on iOS 10 can check to see if they have 32-bit apps on their device by navigating to the Settings app > General > About > Applications > "App Compatibility." Here users will be able to see a list of any outdated apps that won't be supported on iOS 11. All iOS devices with a 64-bit chip will support iOS 11, including the iPhone 5s and newer, the fifth-generation iPad, the iPad Air, the iPad Air 2, all iPad Pro models, the iPad mini 2 and later, and the 6th generation iPod touch.