Apple Accepting Donations for Hurricane Harvey Relief Efforts
Apple has added banners to its United States website and iTunes Store in an effort to encourage its customers to donate to those affected by Hurricane Harvey.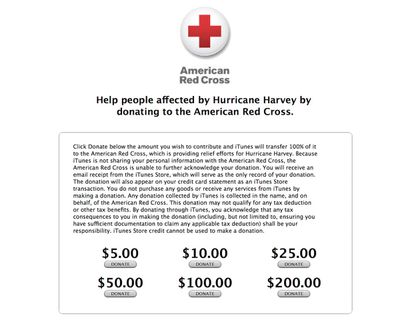 Similar to past relief efforts, users can choose to donate $5, $10, $25, $50, $100, or $200, and Apple will transfer 100 percent of the proceeds to the American Red Cross, which is providing relief efforts for people in the path of Hurricane Harvey. All donations will be processed as normal iTunes purchases through a connected Apple ID.
Apple CEO Tim Cook tweeted about the donations early this morning, as rescue workers in Houston and other parts of southeast Texas attempt to help residents trapped in their homes by "catastrophic flooding." Harvey made landfall late Friday night as a Category 4 hurricane and has since been downgraded to a tropical storm, which is expected to stay in the region over the next few days.
Apple is known to create donation pages across its various storefronts in the wake of natural disasters. In the past, Apple has collected Red Cross relief funds for the
British Columbia Wildfire
,
Hurricane Matthew
,
the 2016 Louisiana floods
,
the 2015 Nepal earthquake
, and many more.