Apple Accepting Donations for Louisiana Flood Relief
Apple has added banners to its U.S. website, iTunes Store, and App Store encouraging customers to donate to the American Red Cross to help support people who have been affected by the widespread flooding in southern Louisiana.
Donation tiers available include $5, $10, $25, $50, $100 and $200, with all proceeds from donations sent to the American Red Cross. All transactions are processed as iTunes or App Store purchases.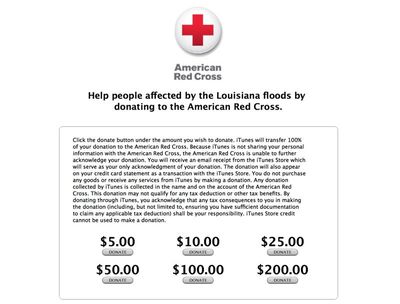 Flooding in Louisiana, which started last week after torrential rainfall, have damaged more than 40,000 houses and left many thousands of people without homes. More than 20 parishes have been affected, and in many of the areas, flood insurance was not common because they weren't known flood zones. The Red Cross has called the Louisiana flooding the worst natural disaster in the United States since Hurricane Sandy.
Apple often puts out a call for donations for disaster relief. In the past, Apple has collected Red Cross iTunes donations for the 2016 fires in Alberta, the 2015 Nepal earthquake, the refugee and migration crisis in the Mediterranean sea, the 2013 Philippines typhoon, and more.