In July, KGI Securities analyst Ming-Chi Kuo made the claim that the OLED iPhone 8 will come in fewer color options than LCD models of the iPhone 7s and iPhone 7s Plus, in a bid by Apple to maintain the iPhone 8's "boutique image." Kuo never made it clear exactly how many colorways that might entail, and a few new images today provide a glimpse into one potential possibility, although their credibility remains uncertain.
Shared on the popular Chinese microblogging site Weibo (via MyDrivers), three new images depict three separate models of the iPhone 8. One is the expected black version, another is white, and the last is what's described as a "champagne gold" option that's said to be "closer in copper" in its color. The new colorway is also visually similar to current rose gold iPhones.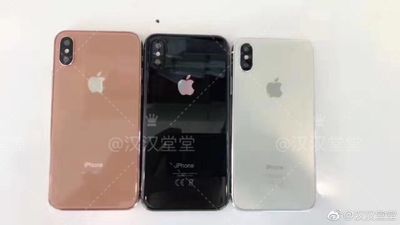 Due to the nearly bezel-less design of the iPhone 8, an all-black iPhone would provide an even more seamless blending into the device's OLED screen. For this reason, black iPhone 8 components have been spotted more frequently in the supply chain, suggesting Apple might only release the device in black, or at least in shades of black. A white or gold-type version would have bezels that more directly clash with the OLED display, particularly when it's turned off.
While the images provide an interesting look at a potential new iPhone 8 color, their veracity remains in question. Besides the vertical dual-lens rear camera and slightly elongated lock button, they don't show any other sides of the iPhone 8 that would support previous rumors. There's also no indication as to whether they are components directly taken from the supply chain, or if they are dummy models made by non-Apple suppliers based on recent rumors.


In separate color-related iPhone 8 news, leaker Benjamin Geskin last month claimed that Apple will make the OLED iPhone 8 available in four colorways, with a "mirror" shade pitched as the new option. Although the recently released HomePod firmware has yet to hint at any iPhone 8 color details, it's provided information on a wealth of other topics, including the general design of the new smartphone and advanced facial recognition features.