U.S. House Committee Unanimously Approves Measure to Ease Restrictions on Autonomous Vehicles
A United States House panel this morning unanimously approved a proposal that would allow car manufacturers to deploy tens of thousands of autonomous vehicles without adhering to existing auto safety standards, reports Reuters. The legislation would also ban states from implementing and enforcing some driverless car rules as regulators work to create improved federal safety standards for autonomous driving.
Under the terms of the proposal, automakers would be required to submit safety assessment reports to United States regulators, but pre-market approval of autonomous vehicles would not be required.
Automakers would have to show self-driving cars "function as intended and contain fail safe features" but the Transportation Department could not "condition deployment or testing of highly automated vehicles on review of safety assessment certifications," the draft measure unveiled late Monday said.
Companies working on autonomous vehicles, including General Motors, Alphabet, Ford, and Tesla, have been lobbying Congress to pass a federal measure that would pre-empt rules being considered in California and other states that would limit the deployment of self-driving vehicles. The measure preliminarily approved today would let manufacturers subvert the rule requiring autonomous cars to have driver controls, and it would prevent states from setting self-driving car standards for software and safety systems.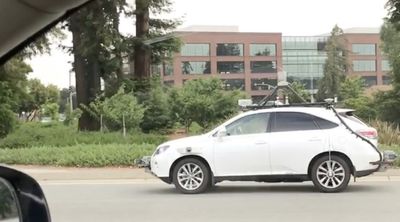 One of the Lexus vehicles Apple uses to test its autonomous driving software


The measure was updated last week to add a directive that would require the National Highway Traffic Safety Administration to draft new rules for autonomous vehicles within 18 months, but consumer advocacy groups say that the bill needs tweaking to ensure that automakers prioritize safety and do not put consumers at greater risk of a crash.
Apple has its own autonomous driving software in development and would benefit from the relaxed regulations should the bill be passed. Apple has previously asked the California DMV to re-evaluate some of its rules, including those requiring companies to provide detailed public reports about testing variables and results.
Apple CEO Tim Cook in June said Apple considers its work on autonomous driving systems as "the mother of all AI projects." Apple is currently testing its software in several Lexus RX450h vehicles that are equipped with a host of sensors and cameras.
The full committee could vote on the measure as soon as next week, but the U.S. House of Representatives will not consider the bill until it reconvenes in September after the summer recess. Representative Robert Latta, who leads the Energy and Commerce Committee subcomittee overseeing consumer protection, plans to continue considering changes ahead of the full committee vote.